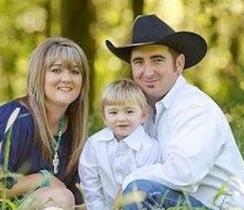 BioZyme Inc, maker of VitaFerm and Sure Champ®, has named Alan Lee as its new south Arkansas and Louisiana area sales manager. Lee will be providing customer support and assistance to our dealer network.
"I am very excited to work for a company that I can say from first hand experience has products that work. Sure Champ® and VitaFerm have been staples in our cowherd and show barn for many years," say Lee. "It is exciting to know the potential that these products can have on our customers' livestock and bottom line."
Lee has an extensive background in the cattle industry, and has been involved in numerous sectors of the agriculture industry. Previous to joining the VitaFerm team he worked in extension and as a sales rep for Gallagher. His passion for livestock began at an early age and continued through college were he was on livestock judgingteams at Eastern Oklahoma State and the University of Arkansas, and obtained his animal science degree from the University of Arkansas.
Lee lives with his wife, Christy, and son Kix in DeQueen, Arkansas, where they run 85 head of commercial and purebred cows, and focus on producing show steer and heifer prospects.