Today we are very excited to announce a brand new partnership with Show-Rite.  Starting the beginning of July Sure Champ will be added to Show-Rite's 40-90, EZ Tone and 17.5 feed products.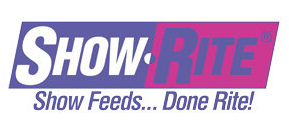 This will be an excellent opportunity for the Sure Champ® brand to grow, and will give our Sure Champ Pig customers another option on how they incorporate Sure Champ® into their feeding regimen.
"We couldn't think of a better company to be partnering with," says Jason Lackey, Sure Champ Swine Specialist. "Nutrition is key to success in the showring. By combining Show-Rite® and Sure Champ® we can make sure the pigs in your barn will reach their full potential." 
The Show-Rite® and Sure Champ® teams will be kicking off the partnership at World Pork Expo, June 6-9, in Des Moines, IA.
"Show-Rite® is committed to the youth of today's agriculture and we are excited to be working with Biozyme Inc, makers of Sure Champ®, a company that shares that same passion and philosophy," says Todd Kennedy, Show-Rite® Specialist. "Sure Champ® has proven to be a leading supplement in maintaining gut health, while adding freshness and bloom to complement Show-Rite's complete feed products."
For more information on the Sure Champ® and Show-Rite® line of products or to find a dealer near you visit the Dealers Tab on our website at or www.showrite.com. You can also contact Jason Lackey at Jason2@biozymeinc.com or Todd Kennedy at Todd.Kennedy@hubbardfeeds.com.