It seems like the summer is flying by, and with fall approaching that means that for most farrowing is heavily underway. This summer Sure Champ has once again proven itself as a supplement that works. Amaferm, is the foundation for Sure Champ and all our products manufactured at BioZyme. What's unique about Amaferm is it can produce the same positive effects on the production side as it does in the showring.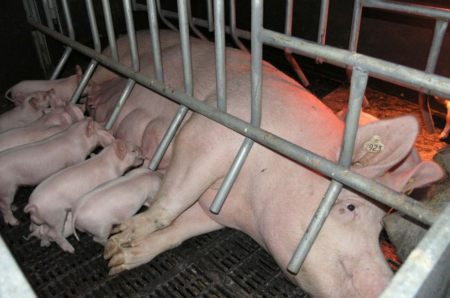 It is no secret that Amaferm helps reduce digestive problems associated with stress, increases efficiency and improves overall health. This makes products containing Amaferm ideal for the farrowing barn.
1.      Digest More – Digest More is a pelleted form of Amaferm that can be used in any livestock feeding situation. As we all know, Amaferm works to reduce stress, inevitably increasing appetite and digestibility during those high stress times like farrowing. Producers have seen the most success by including 15 lb./per ton of Digest More in their gestation and lactation rations. To ensure that Amaferm is in their system before entering the farrowing house, it's a good idea to start putting it in their diet about three weeks before they enter the farrowing house and throughout the duration of their stay in there.
2.      Vita Charge Paste – As most of you have experienced, Vita Charge is an incredible tool for getting livestock back on feed quickly.  Much like the relationship between Sure Champ and Vita Charge, the Digest More and Vita Charge feeding protocol is similar. Digest More works as a constant in their diet to help maintain steady consumption and promote gut health. Vita Charge is a must when putting sows in the crate. Putting 10 ml of Vita Charge Paste on top of their feed twice a day once they enter the farrowing house will provide sows and gilts with an immediate spark and will likely allow the transition back on to feed after they farrow to be easier. Producers who have used Vita Charge in their farrowing house will not go without it!
3.      Liquid Boost – We are very proud to announce our newest product to the VitaCharge line. Liquid Boost is a liquid form of Vita Charge. Most importantly for hog producers, we have formulated and packaged it in a way that it can be used in medicators for your nursery! It comes in a 2.5 gallon jug and you simply put the medicator line in the Liquid Boost jug and it's ready to go at a 1:128 dosage rate. Again, since Amaferm shines during stressful times in an animal's life, we can't think of a better way for it to be used than when weaning a group of pigs. Liquid Boost is currently only available through our headquarters. Please contact Erin Creason to place your order.
We are very excited about how well our products help aide swine producers in their farrowing process. Please feel free to contact Jason Lackey, Pig Specialist, with any questions you might have.