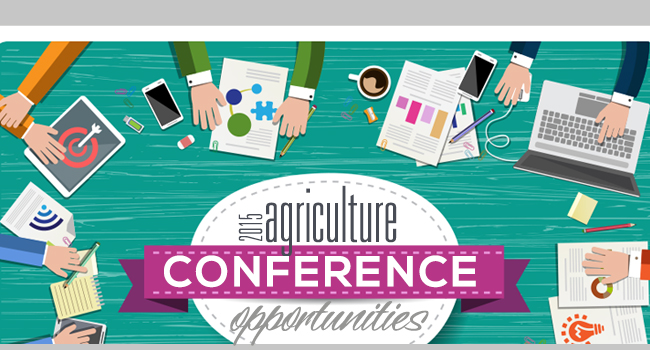 Conferences are not only a great way to connect with people that have similar interests as you, but also to learn about current topics and trends in a given field. Here is a list of "must attend" conferences in the agriculture industry:
National FFA Convention | October 28-31 | Louisville, KY
60,000 FFA members + 4 days = 1 amazing experience! With this year's theme of "Amplify", FFA members will attend general sessions, participate in judging contests and connect with FFA members across the nation. For more information on attending National Convention, contact your local FFA advisor and visit the National FFA Convention website.
AgChat Foundation Conference | November 9-10 | Nashville
The 2015 Cultivate & Connect conference is scheduled for November 9-10, in Nashville, TN. The event will provide AgChat Foundation's trademarked training on connecting farmers, ranchers, agribusiness professionals and educators with consumers who are generations removed from the farm or ranch. Register here.
GROW Future FarmHer Conference | November 30 | Ankeny, IA
GROW is an event that inspires and empowers young women in agriculture to take an active role in the agriculture industry. This event, for young women ages 15-23 with an interest in agriculture, will feature inspirational and informational experiences as a group as well as meaningful one-on-one connections with women ag leaders. Young women will get a real-life look at what they need to do to be successful ag leaders, while gaining the encouragement and making the connections that are pivotal to helping them GROW in agriculture. Register here.
AFA Policy Institute | March 13-16, 2016 | Washington D.C.
Held in conjunction with Agriculture Council of America's National Ag Day, the AFA Policy Institute experience allows AFA students to join Student NAMA, 4-H and FFA students for National Ag Day activities on Capitol Hill. In addition to training sessions associated with National Ag Day, the AFA delegate experience is enhanced by Institute specific activities, including visits with agriculture policy leaders. Students will also benefit from networking with like-minded students who are passionate about agriculture and the legislative process. This Institute is open to all undergraduate students pursuing agriculture-related degrees who have previously attended AFA Leaders Conference. Applications are due Nov. 30. Learn more and apply here.
AFA Animal Institute | April 3-5, 2016 | Kansas City, MO 
The AFA Animal Institute is an annual conference open to all college students pursuing agriculture related careers to promote understanding of animal-related career opportunities, as well as to connect industry leaders with future talent. Approximately 90 students are selected each year to travel to Kansas City for this three-day event. The itinerary typically includes area visits to animal health services and business, as well as an organizational overview and welcome by staff leadership. The event also features an industry dinner where corporate leaders and student participants are able to connect and summarize their experiences. Following the day of industry tours, students participate in panels and discussions about various aspects of the animal industry. Applications are due Jan. 29. Learn more and apply here.
Agricultural Communicators of Tomorrow (ACT) Professional Development Conference | January 14-17 | Stillwater, OK
The National Agricultural Communicators of Tomorrow is a leading collegiate organization in developing and strengthening agricultural communication students through professional growth opportunities and educational programs. At the Professional Development Conference, students will have the opportunity to meet with industry professionals, tours of agricultural production facilities and more. Learn more here.
What conferences would you add to this list?