We are so excited to bring you our Third Annual Stock Show Life Christmas Wish List. This has been a fun list of items we have put together to make your Christmas shopping a little easier. Our Girls, Boys, and Family lists are full of the perfect gift ideas for your stock show loving family members. And don't forget to check out the 2013 and 2014 wish lists!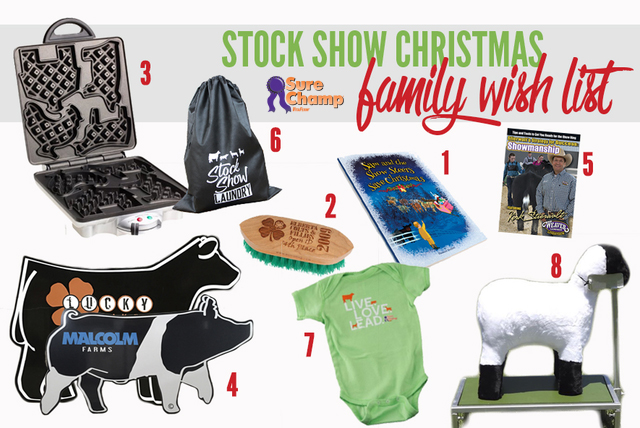 1. Sam and the Show Steers Save Christmas (Stock Show Toys) – $20 -We love this story book from Stock Show Toys. Also, be sure to check out their other book "Could You Be My Show Heifer?"
2. Personalized Medium Bristle Brush (KO Trading Trophy Tack) – $12 – Whether each member of the family needs their own brush, or you don't want it walking away at the next show, these medium bristle brushes will make the perfect gift.
3. Farm Animal Waffle Maker (Amazon) – $214 – Get the family fed with some stock show inspiration before they head outside to feed the show string.
4. Farm/Show Barn Sign – (The Showtimes Magazine) – Large $300, Small $50 – Available in steer, pig, lamb and goat these cutouts are able to be completely personalized.
5. Stierwalt's Strategy for Success: Showmanship DVD  (Weaver Leather) – $40 – Sharpen your showmanship skills with tips from legendary cattlemen Kirk Stierwalt.
6. Stock Show Laundry Bag (Stock Show Sweathearts) – $11.97 – The perfect laundry bag to be filled with you barn clothes.
7. Live. Love. Lead. Baby Onesie (Sure Champ) – $23 – Make sure the littlest ones in your family learn the Live it. Love it. Lead it. lifestyle early on.
8. Stuffed Animal Show Lamb (Sweeney Enterprises) – Contact for pricing – Now your little stockshow friends can fit like a pro. Show goat, pig and steer are also available.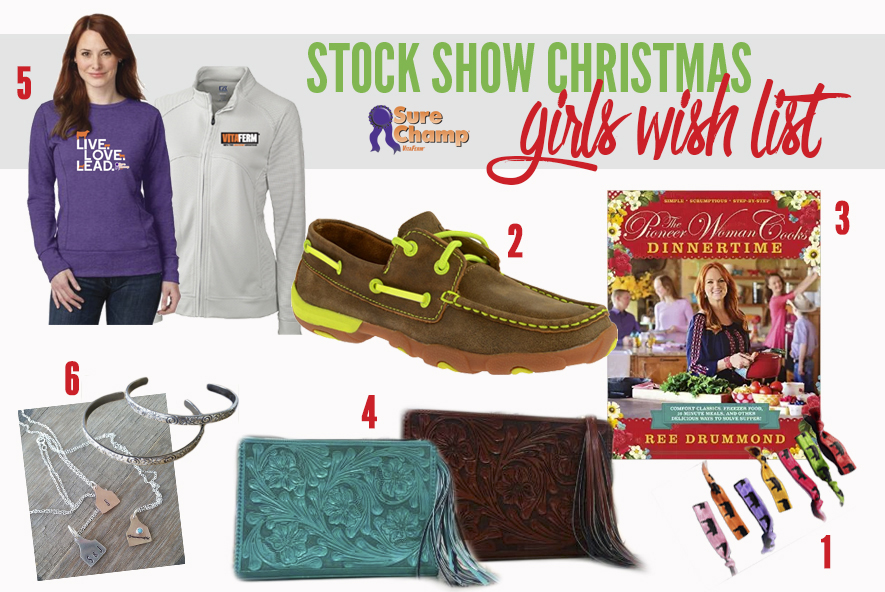 1. Livestock Elastic Hair Bands (Farm Girl Factory) – $3 each or 3 for $5 – Perfect for wearing around the barn.
2. Barn Loafers – (Twisted X Shoes) – $99 – If you love Sperry's you are going to love these Twisted X Loafers.
3. Dinner Time Classics Cookbook (The Pioneer Woman) – $18 – The Pioneer Woman hit it out of the park with her newest cookbook. Lots of freezer and quick meal ideas for busy farm families.
4. Hand Tooled Leather Handbag (Lazy J Ranch Wear) – $225 – These handbags are beautiful and something that every lady would love to have under her arm.
5. Sure Champ and VitaFerm Apparel (BioZyme) – $15-$70 – Check out of newest apparel items and the great sales we have going on just in time for Christmas!
6. Custom Jewelry (Classy Trailer Designs) – $25-$100 – Jill at Classy Trailer Designs is an amazing silversmith. Choose from her many in stock pieces or have her create you a one of a kind piece to reflect your family, ranch or farm.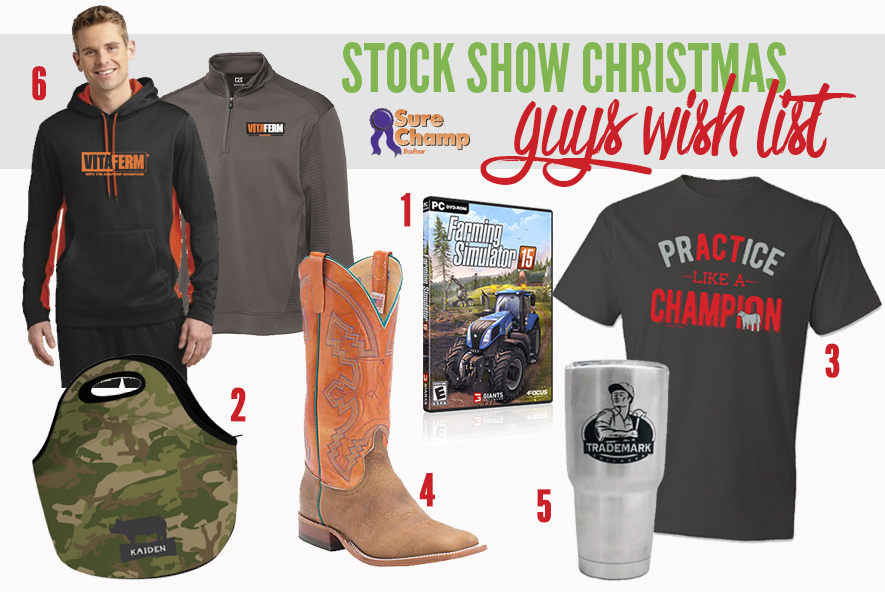 1. Farming Simulator Video Game – (Farming Simulator) – $29.99 – Harvest might be done but bring your love of tractors and farming indoors with this video game.
2. Personalize Lunch Bag – (Stock Show Boutique) – $34.99 – We always LOVE all the creative items that Stock Show Boutique has to offer. They have tons of options, many available with personalization.
3. Act Like A Champion – (Livestock Showgirls) – $19.99 – A great t-shirt and slogan for you to share your stock show love!
4. Anderson Bean Cowboy Boots – (Cavender's) – $279 – Isn't a new pair of cowboy boots on everyone's list? Our sales team loves Anderson Bean for their comfort and durability.
5. Personalize Yeti Rambler – (Custom Rambler) – $59.99 – This is a hot item on everyone's Christmas Wish List. Keep your cold items cold, and hot items hot all day long!
6. Sure Champ and VitaFerm Apparel (BioZyme) – $15-$70 – Check out of newest apparel items and the great sales we have going on just in time for Christmas!