Hello livestock enthusiasts!
The weather here in Des Moines is great for a livestock show, not too hot and not too cold. This also made our second Live on Air at WPX an enjoyable time this morning.
Again, we had Trent Loos serving as the host along with Bobby Listen, Okla.; Jim McCoy, OH; Brandon Ogle, IL; and Steve Rodibaugh, IN. Various topics were discussed, including how junior show programs help non-traditional ag students get involved, kids working on farms and current trends in the industry.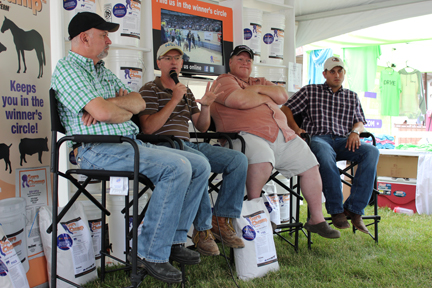 Some highlight's of this morning's forum:
Bobby Listen on getting non-traditional ag kids interested in livestock: "Buying a pig has changed some of their lives, showing pigs has kept them motivated to graduate high school and even college. It gives them something positive to do, making them productive and keeps them away from drugs and alcohol."
Steve Rodibaugh on the purebred hog industry, "Purebreds need to be maintained to keep soundness, balance and consistency. They are going to be the backbone of the crossbred industry. It takes elite purebreds to make elite crossbreds."

Jim McCoy on balancing modern pork production and the show industry, "You watch kids grow up through activities and programs such as the NJSA and Team Purebred that teach leadership and communication skills. My FFA experience made me comfortable speaking in front of groups."
Brandon Ogle on children working on farms, "There's more dangerous things than working with a sow or a boar. We teach life skills and family values, maybe we need to emphasize that more."
We will host one last forum tonight at 6:30pm CST, here at the World Pork Expo. This session will feature Ben Moyer, Galen McCune, Ben Bobell and Jesse Heimer. If you can't be here in person, make sure you look at www.stockshowlive.com or follow along on twitter via @surechamp or #liveonair or #wpx12.
Be sure to check back on our blog for a video recap of the session!
Best,
Robin