Most of us have had that one show when we load up, get to the show, set up all of our stuff only to look around and realize we don't know anyone there. Here are a few tips to help you meet people and make friends!
1. Contests
Whether you're at a country show or junior national, get involved in a contest! From baking a pie to team sales, sign up for something out of your comfort zone and go for it! Even better if you can get a team together to do the activity.
2. Run for a position
Running for a position or committee can help you expand your network not only in general but in an industry that you have a passion for. Nine times out of 10 you and the person next to you who is trying to get involved will have similar values/goals. Check out these tips on how to successfully run for a junior board position.
3. Volunteer
Echoing what we said for running for a position, volunteering is a great way to meet others. More than likely you and the others around you are there for the same reason. A friendship always starts when you have something in common; connect and get to know those around you!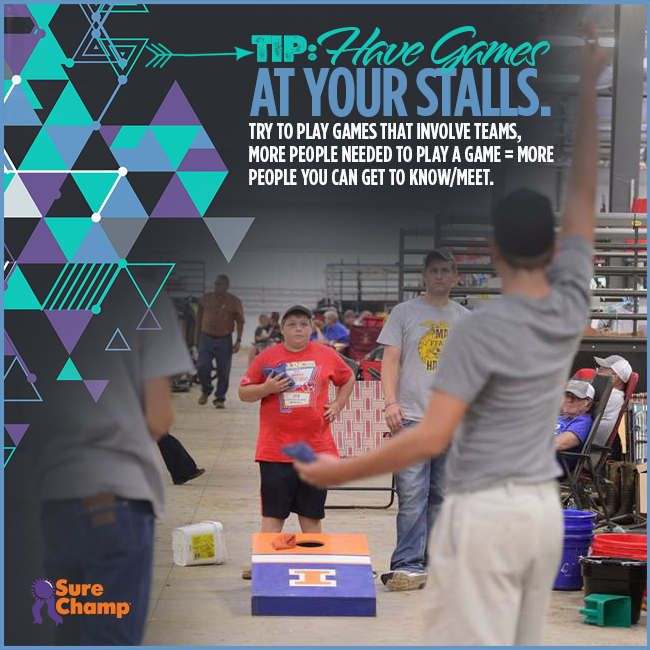 4. Mentor/Apprentice or Big/Little
Some shows will have a program where older kids will be paired with younger kids then sent on some sort of mission, i.e. scavenger hunt, cookie decorating, etc. It is a great way to bridge the age gap in a group of exhibitors but gives you the opportunity to make friends of all ages.
5. Talk to the other exhibitors across the isle
Seems pretty simple but we are really serious! Who knows, you might of forgot your water hose at home or need a pitchfork. I bet those isle neighbors would sure come in handy, plus if you know you'll see them down the road and y'all are vibing then you could always stall next to each other.
6. Help someone you don't know
Aside from being a kind person in general, a little kindness goes a long way. Helping someone move that showbox or setting up their fan is a great ice breaker. It's a great way to strike up a conversation and a good medium to introduce yourself.
7. Attend show sponsored activities
Some shows will have socials, dances and/or group meals. Go to those, sit next to new people and hang out. Y'all are already have something in common, your animals. People love talking about animals so branch out and sit somewhere new! Also, if there is an educational clinic or event invite others to come with you so you can all learn together.
8. Have games at your stalls
If we have learned anything from over the years sometimes a show can get a tad boring. Bring a deck of cards, corn hole or we have even seen someone bring their xbox. It's a great way to draw friends and guests in near your stall and its a clever way to meet people. *Game Tip* Try to play games that involve teams, more people needed to play a game=more people you can get to know/meet.