BioZyme, Incorporated's research farm serves the company in many different facets. Last week the farm was a classroom for agricultural education on location.
The sixth and seventh grade classes from Avenue City School, Crosby, Mo., came to the farm to learn about agriculture, as well as witness a unique research procedure. Currently the farm is home to seven feeder steers; three beef and four dairy cattle. These cattle are used for research on feed efficiency, feedstuff digestibility and product trials. A unique and efficient way for researchers to gather information about a cow's digestive system is through a process referred to as, cannulation.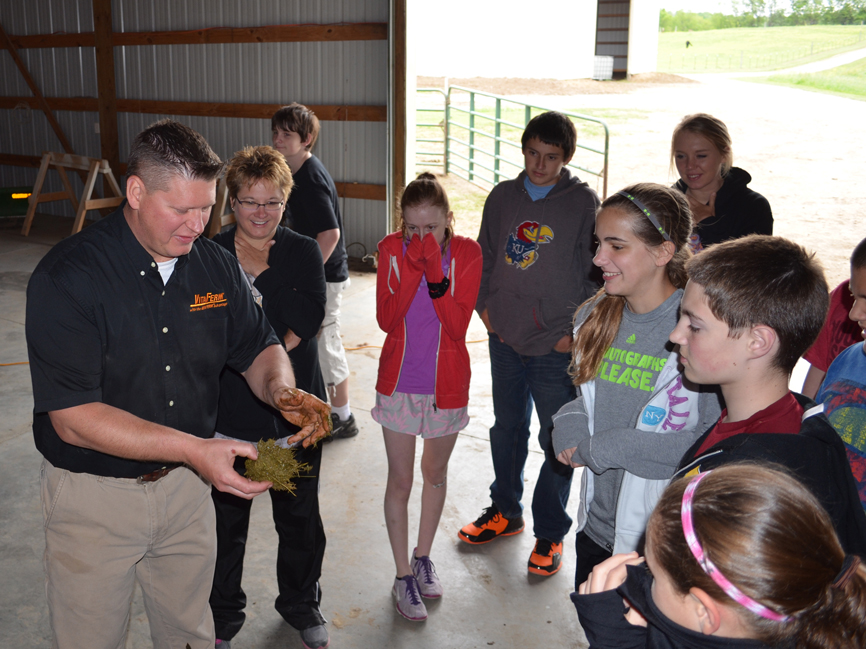 Cannulating is a surgical procedure where a veterinarian creates a window into an animal's digestive system through their rumen. A cow's stomach is comprised of four compartments with the rumen being the largest, and most active compartment.
The veterinarian that preformed the procedure was Dr. Pat O'Connell from the Maryville Veterinary Clinic, Maryville, Mo. If you live in the area, Dr. O'Connell is also a dealer for BioZyme, Inc. Students had the opportunity to ask Dr. O'Connell questions during the procedure to better understand how the cannula functions when placed inside the animal.
"Does the surgery hurt the cow?"
Even though the cow is not anesthetized before the operation they are given a sedative that works as a numbing agent. They can't feel the procedure as it is being performed. 
"Don't germs get into the cow's stomach?"
"No, digestion in a cow's stomach is performed by millions of tiny microorganisms. These microbes also work to keep the cow healthy. When an infectious microbe tries to enter the rumen the natural microbes are too persistent to compete with, leaving a lack of nutrients for the infectious microbes to survive." 
"Will the cow have the cannula it's whole life?"
More then likely, yes, the cow will have the cannula it's whole life unless the owner decides to have it removed. Most of the time owner's don't have cannulas removed because the cannulated cows are some of the healthiest in the herd. Cannulated cows can also be donors of rumen fluid to other cows if they are sick.
Some students couldn't stomach the sight of blood and had to step away from the working chute, then there were others that wanted to help with the procedure.
"It was a successful agriculture education on location visit," says, Dr. John Sylvester, Director of Applied Research at BioZyme, Inc. "As the research farm continues to grow and evolve  we hope to host several more events to educate the future of our industry."