Questions regarding the levels of Selenium (Se) in the diet have become a common for our nutritionists, especially with the large warning on our Sure Champ bags.
Selenium (Se) is important for growth, reproduction and immune function. However, it can be a very toxic trace mineral. Because of that, there are regulations on use in feed products. The current FDA Selenium food additive regulation provides for the use of sodium selenate, sodium selenite or selenium yeast as sources of Selenium. Selenium supplementation in feed supplements for limit feeding in beef cattle, sheep, goats and pigs is not to exceed an intake of 0.3 ppm in the total diet. For beef cattle, selenium can legally be supplemented to provide 3 mg/head/day or 0.3 mg/kg (ppm) in the complete diet.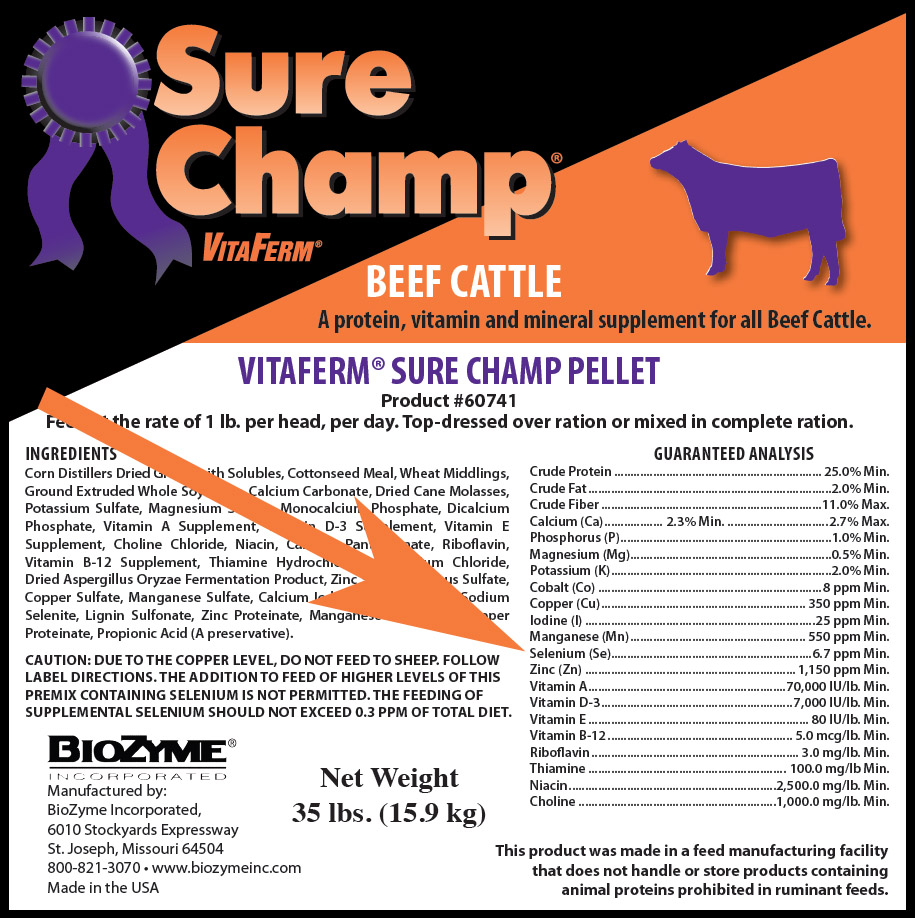 Sure Champ Cattle provides Selenium at a rate of 6.7 ppm (6.7 mg/kg).  At 1 lb ( 1 lb equals .45 kg) per head, per day it will provide 3 mg of Se (6.7 mg/kg x 0.45 kg = 3 mg). Therefore, Sure Champ contains the maximum allowable amount of Selenium.
In order to determine toxicity, you will first have to look at the selenium content in your forages, grains, Sure Champ and other supplements. Once we know the amount of selenium in each part of the diet we have to do a few calculations to determine the amount of selenium in the total diet.
In this example we will use a 550 lb. calf that is eating a total of 13 lbs. of dry matter ( 7 lbs. of grass hay, 5 lbs. grain mix, 1 lb. of Sure Champ Cattle).
Hay:  7 lb (3.2 kg) x 0.523 ppm Se = 1.67 mg Se
Grain mix:  5 lb (2.25 kg) x 0.18 ppm Se = 0.41 mg Se
Sure Champ Cattle:  1 lb (0.45 kg) x 6.7 ppm Se = 3.0 mg Se
Total Se: 1.67 + 0.41 + 3.0 = 5.08 mg Se in the total diet (13 lb. DM = 5.85 kg DM)
Total ppm in diet = 5.08/5.85 = 0.87 ppm Se
As mentioned, the Beef NRC (1996) reports that the maximum tolerable concentration of selenium is 5 ppm (5 mg/kg) in the total diet. This diet is does not exceed the maximum tolerable concentration.
It is important to remember, depending on your area grains and forages can be much higher in selenium. Be sure to check your feed and supplement labels and even consider getting your forages tested to determine Selenium levels.
The NRC reports the maximum tolerable concentration of selenium for pigs is 4 ppm, sheep is 5 ppm and goats 5 ppm.
If you have additional questions please email champ@biozymeinc.com and our nutritionist would be more than happy to help you with your ration or nutrition questions.