For an updated answer and show heifer ration read this post: Formulating a Show Heifer Ration
This next question came in from Michelle Morrison. Her family is just starting to show cattle again, since her daughter has joined 4-H. Here is her question: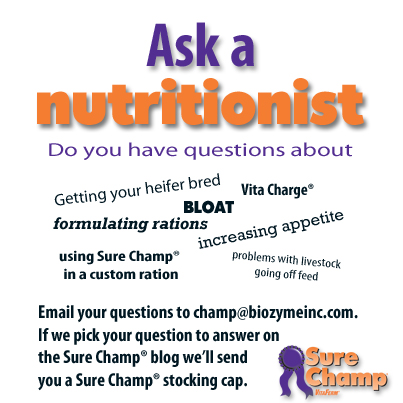 We are currently using a 12% sweet feed with steam flaked corn, oats, barley and pellet, plus we mix Sure Champ and Winning Fill into it (feeding almost 10%of feed to their body weight). Our Shorthorn heifer calves just look to be lacking in their toplines, and thickness everywhere at younger ages when they get to be 15 months or older they blossum and look good. However, most of our shows fall around 9-15 month old. Also, we are thinking of going back to our own old ground ration, which worked great 10yrs ago, it consisted of 1200 lbs. corn, 500 lbs. oats, 300 lbs. soybean meal, 300 lbs. barley, 50 lbs. mineral, and we would of course ad Sure Champ. My question is this ration seem good enough for Shorthorn show heifers today? Or does it need tweaking? Or should we stay on the sweet feed and if so what should I add to it?
Kevin Glaubius, Director of Nutrition and Technical, Sales has a few ideas for Michelle.
What you describe is generally related to protein being too low to support maximum (muscle) growth. At younger ages protein requirements are higher making it the limiting nutrient. This would explain why at 15 months of age older calves "blossom".
I would go to a grain mix that is at least 16% protein and feed it at 1.5% of body weight while heifers are young. Add Sure Champ as a top-dress at the full rate (1lb. per day). In this case an 800 lb. heifer should get 12 lb. of the grain mix. You also need a high quality grass hay with no less than 10% Crude Protein and she will probably consume another 6-12 lb. of hay.
You could wait until you have your heifers to the heavier weight to use the Winning Fill since it is only 13% Crude Protein. As they get older is when I would use the Winning Fill.
I created a 17% protein mix with Sure Champ and our high calcium mineral for the early heifers to use along with the Winning Fill; here is a proposed recipe.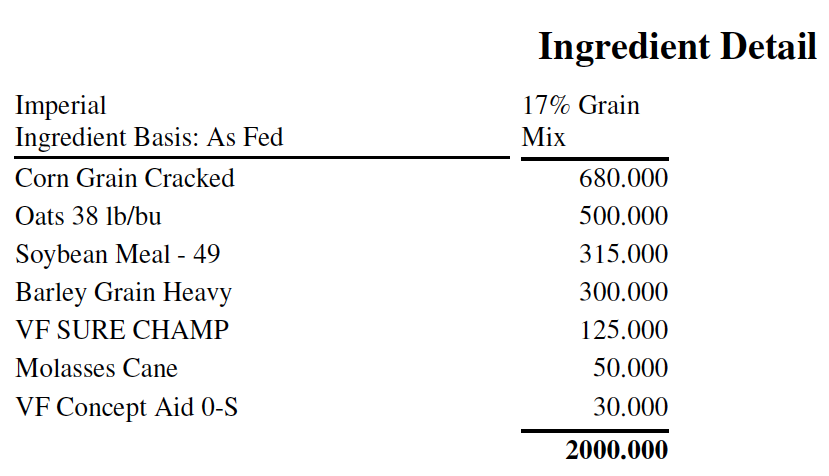 (Link to VF Concept-Aid 0/s)
This mix should work well up until around 1,000 lb. then I would go back down to 14% Crude Protein in your current feeding situation.
If you have nutrition questions use our Ask a Nutrition Form.
To read more nutrition questions that have been submitted click here.