With the popularity of mini breeds like Mini Herefords and Lowlines we have been fielding quite a few questions regarding rations for this size of cattle. Recently, we heard from Steve Hoffman that has a herd of % Lowline cattle. They show at their county fair and a few larger breed shows. Here was his question:
"When we first started feeding these (Lowlines) about four years ago I reconfigured my old rations from the 80's to try to fit what I could see of the current trends. I took the challenge of getting as much good out of each mouth full because my mouths are smaller and every bite needs to count. Over the past couple years I have cut back on protein and energy because some of the calves would stay very loose and I've even had a few bloaters. We only feed the animals we calve on the farm so we are fine tuning to our genetics all the time. We have been looking at your supplements for the last year and have yet to try incorporating it into our feed program but still want to know more about it."
This is what his ration looked like: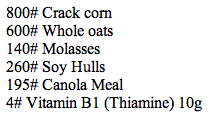 I push the steers and I limit feed the heifers, both are fed grain twice per day and have access to a round bale of 90-95 RFV hay at all times. Closer to show season when we tie during the day they have access to the round bale all night. I also keep a complete mineral available at all times as well as a free choice of sodium bicarb.
Our steers historically have been finishing between 900 to 1000 lbs. depending on the % of Lowline blood and they have been grading Choice in 14-16 months of age.
Our nutritionist Susan Day took a look at Steve's rations and these were her thoughts:
Your grain mix is pretty typical of what I've done in the past with Lowline cattle. I have seen show mixes with more or less protein, but the current protein level in your mix should be fine with a decent quality grass hay. Energy is typical for a show diet that contains some fiber to make it more rumen-friendly.  I have used your current ration and created a similar mix using our VF Sure Champ Cattle. At 10 lbs. of grain intake they will get the full 1 lb. of Sure Champ that's recommended. Since these are smaller cattle it will be ok when they are eating less than the 10 full pounds as their requirement for total amount of vitamins and minerals will also be less. If you want, you can still provide a free choice mineral but all their vitamin and mineral needs will be taken care of by the Sure Champ. The Sure Champ should also solve some of your bloating problems as it will be creating a healthier digestive system. I did add some calcium carbonate because I like to make sure Ca:P ratio is greater than 1:1 regardless of hay source, so I use a little extra.  I removed half of your thiamine, because Sure Champ provides 100 mg of thiamine. If you have any questions or would like to see any tweaks please let me know. What I've done in the past is use a ration like this with 35% forage for steers/bulls and 45% forage for show heifers.  Thanks, Susan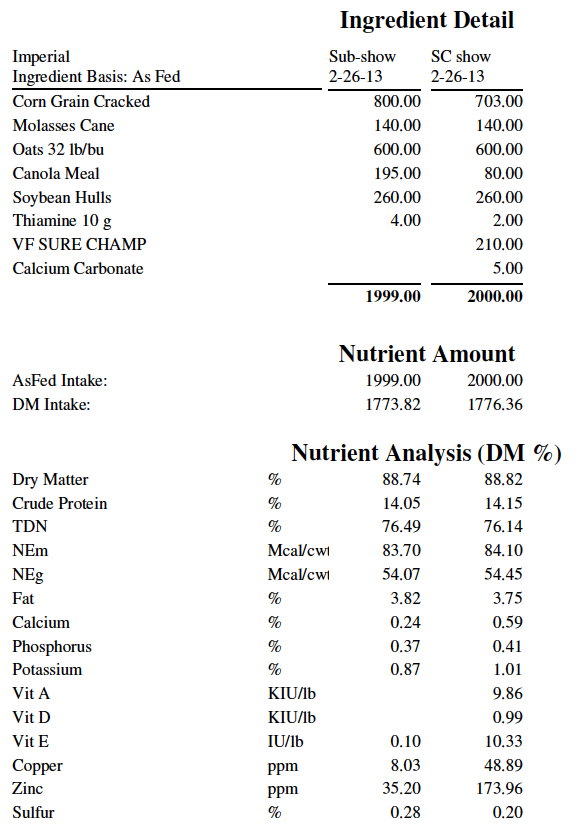 If you have a nutrition or ration question email champ@biozymeinc.com. Also, be sure to check out our Feeding Strategies page to see past Ask a Nutritionist questions.