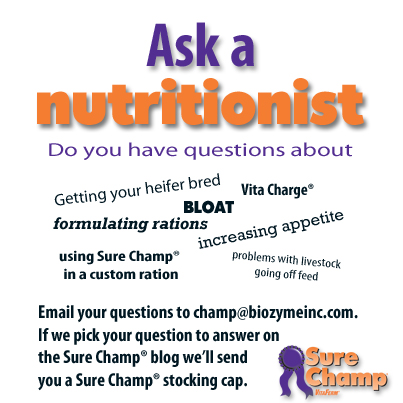 This question comes from Rochelle Gates. Rochelle feeds a variety of ages of goats (anywhere form 6 months to 9 years old) together by using a creep feed mixture. They would like to be able to mix Sure Champ directly into their creep feed instead of top-dressing with it, and are curious to know how much Sure Champ should be added.
Susan Day one of our on staff nutritionists was able to answer this question.
I think you would be OK with 30% of your mixture being
Sure Champ Goat
. I assumed that kids on the low end would eat around 0.7 lbs. of grain, and lactating does on the high end would eat 2 lbs. of grain. At 30% that would give you 3.4-8.4 oz of Sure Champ Goat. Our recommendation is 4-8 oz. so we are in that range (as close as we can be for this wide of a range of animals). I would be happy to put this into a creep feed if you can get the ingredients that you have available to me. Otherwise you can formulate it in knowing that Sure Champ Goat is a 24% crude protein pellet with 3.5% fat. The assumptions I used for intakes are below if you are interested.
Dry matter intake:
Kids:  2.2-3.3 lb.  (44-110 lb. bodyweight)
1st lactation does:  4-6 lbs.
Gestation-1st lactation does:  3-4 lbs.
Buck-maintenance:  2.5-3.5 lbs.
2+ lactation does:  4.7-8 lbs.
Gestation-mature does:  3.5-5.5 lbs.
I assumed approximately 25% of the DMI was grain intake.
If you would like your nutrition question answered email champ@biozymeinc.com.
To read more of the nutrition questions that have been submitted
click here
.