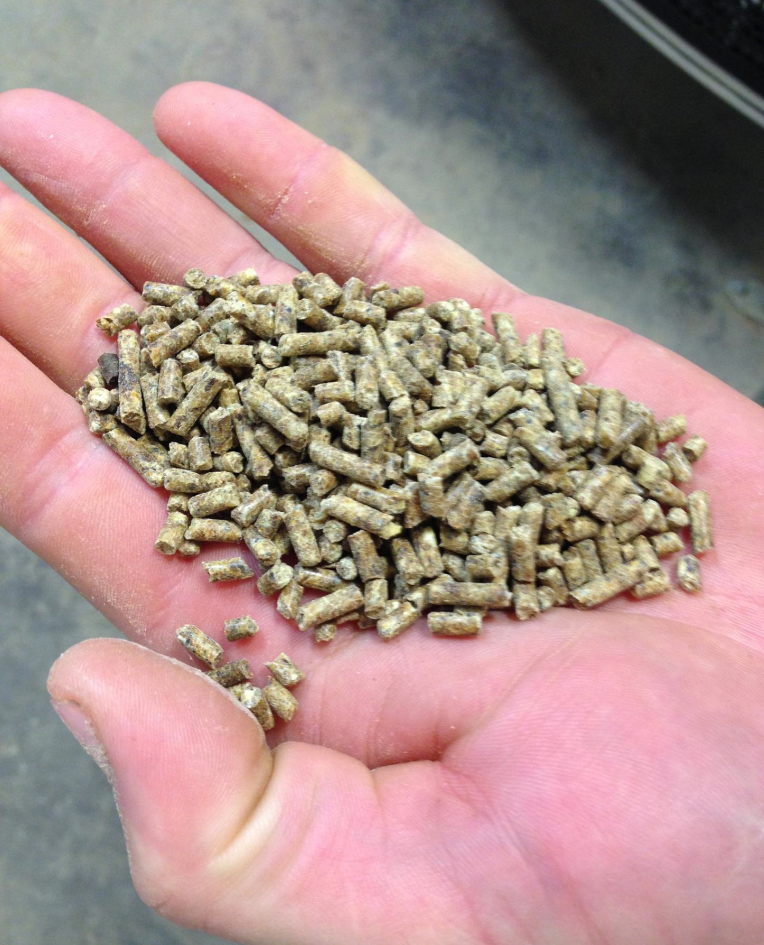 The purpose of pelleting is to improve feed handling and acceptance by our livestock. In some cases pelleting also improves digestibility, although if heat is too high it can reduce digestibility.
Pellet sizes for feed and supplements come in nearly every possible dimension.  To start to have an understanding of which pellet size is right for your operation it is helpful to first know how pelleted feed is created:
1.) Feed ingredients are mixed together in a uniform manner.
2.) Ingredients are then conditioned with steam, in a controlled manner, to help coagulate them and to get them to stick together under pressure in the pellet mill. This leads to a higher quality pellet.
3.) Pellets are then mechanically forced through a die press by rollers. The smaller the pellet the more force required. The more force that is used the hotter the temperature, due to friction that is created.  The more force, the stronger the pellet.
4.) Upon exiting the rollers, pellets are cut and then run through a cooler to rapidly drop temperature.  This removes the moisture added by the steam. The moisture of the finished product will often be 1-2% lower than at the start of the process.
5.) Now you have an easy to handle and durable pellet made out of ingredients that otherwise would be difficult to feed.
So why all the different pellet sizes in the industry?
First and foremost, the pellet size should be similar to the average particle size of the ration being fed to reduce sorting. Pellets that are too large can more easily separate from the final mix. Let's say that you are feeding whole corn. The pellet size in that case should reflect a similar size to a whole corn kernel so that when delivered to the bunk, livestock don't have the ability to sort out one ingredient.
In the case of range feeds pellet sizes up to one inch in diameter are available. This is a good size for cows fed on the ground, but not for small 200-300 lbs calves that may choke on a pellet that size.
For smaller animals, smaller pellets will often be beneficial in a number of ways including reduced fines, slower eating times and reduced sorting.
From an animal perspective small pellets take longer to eat and help producers avoid one animal hoarding more than its fair share. From a quality perspective the larger the diameter generally the lower the quality and durability of the pellet.
What about pellet quality?
This is one area where a smaller pellet can often help producers by reducing fines. The screens in the cooler can simply do a much better job of removing fines in a smaller pellet and the pellet itself flows with less mechanical force thus creating less fines after pelleting and during transport.
With all this in mind, VitaFerm has recently updated our pelleting capability and will be implementing a smaller pellet for Sure Champ sheep, goat, pig and horse. In addition, we are also moving to the smaller pellet in Amaferm Digest More since it is used on a wide variety of species, including dairy where it is often mixed in a grain mix of finely ground corn. This new micro pellet will be approximately the size of a grain of wheat or an oat seed, and will fit into an even wider variety of feeding situations.  We believe that the increased product quality and the decreased potential for sorting will be of benefit to our customers and their livestock.
For more information please email champ@biozymeinc.com. Our nutritionists are available at any time to answer your nutrition, feedstuff or ration questions.