News Release
FOR IMMEDIATE RELEASE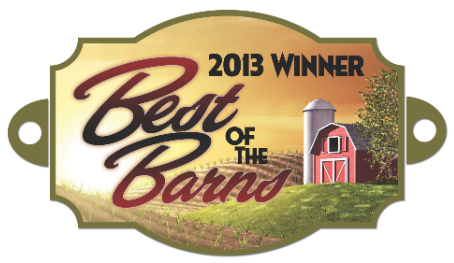 Best of the Barns Media Contact: Ranch House Designs, Inc., KC Kinder, Best of the Barns coordinator, kc@ranchhousedesigns.com or 979-532-9141
Sure Champ Named Winner in 2013 Best of the Barns Awards Competition
Sure Champ has been selected as the national winner for Best Feed Supplement and Best Industry Support of the Year in the Best of the Barns Awards program. This is the third year in a row Sure Champ has claimed the Best Feed Supplement award. Best of the Barns honors the leading businesses and individuals in the livestock sector of the agriculture industry.
"We are extremely honored to be named winners of two Best of the Barns awards. Winning Industry Supporter of the Year has special meaning. Bob and Lisa Norton, owners of BioZyme Inc., are extremely passionate about supporting youth in agriculture. They truly believe that young agriculture people are our future," says Crystal Blin, BioZyme Director of Marketing.
This nationwide awards program is held annually and selected by a popular vote amongst members of the agricultural community. This year, more than 6,000 online votes were cast to honor the winners in over fifty different categories. The winners are selected each year based on popular vote by fellow professionals in the industry.
In recognition of their excellence in the livestock field, Sure Champ will be featured in the January 2014 issue of The Showtimes Magazine, a national livestock publication and presented a commemorative awards trophy.
The 2013 Best of the Barns winners may be viewed at www.bestofthebarns.com.
 ###