We are excited to introduce our fifth annual Stock Show Christmas Wish List! These items are perfect for all the ladies in your life that love the stock show lifestyle.
1. Goat Cookie Cutter – $2.99 – As you are baking all of those Christmas cookies, bring a little stock show life into the kitchen with these livestock cookie cutters. Branded Barn has lots of great tools for the kitchen.
2. FarmHer Queen of the Ring – $22 – We are a big fan of the FarmHer movement and love this Queen of the Ring youth t-shirt.
3. Stock Show Cosmetic Bag – $26 – The Stock Show Boutique always has something that makes our list because of their great design. This canvas pouch is the perfect way to stash a few bobby pins and ponytail holders in the show box.
4. Prep to Win Sweatshirt – $40 – We love our new Sure Champ Prep to Win Sweatshirt. It is super soft and perfect for wearing to the show barn, class or around the house.
5. Sarah and the Feed Room Monster – $15 – Enjoy Book #4 in the Sarah series to find out what is hiding in the feed room. Don't forget to check out all the stock show childrens book by author Rachel Cutrer.
6. Championship Drive a Novel – $19.99 – Author Sarah Beth Aubrey tells the fictional story of Savannah Morgan. A young cattle woman that is forced to take the reins of Morgan Cattle Company when tragedy strikes. Getting serious about raising cattle, Savannah must temper her unquenchable desire to win a national title with the need to bankroll a farm teetering on the edge of ruin.
7. Coffee Then Cows T-Shirt – $27.75 – How many times have you told yourself this? Be sure to check out all of Rosebud's Designs Apparel.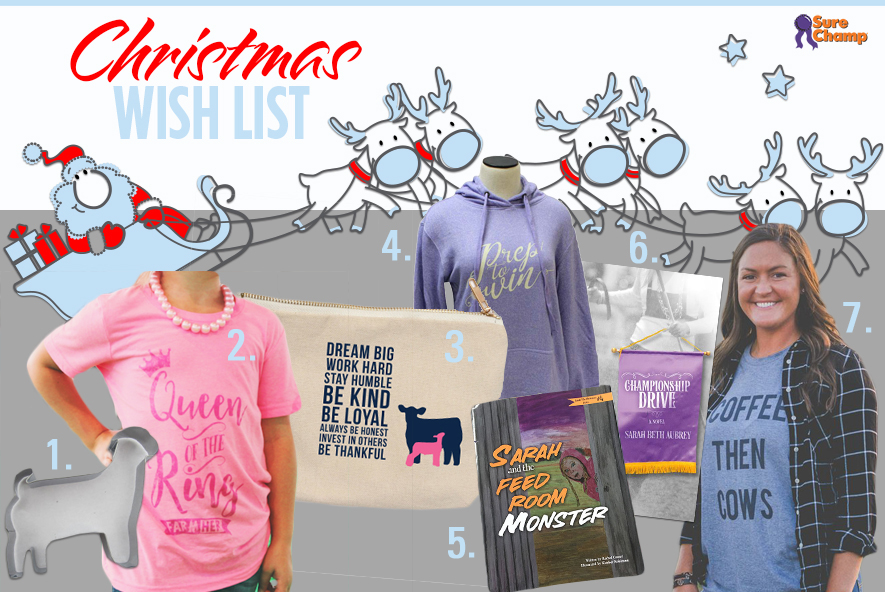 Don't forget to check out our 2016 Family Wish List and those from years past.