Hi Everyone, we'd like to introduce you to a great Sure Champ dealer and junior exhibitor, Chance Bauman of Wyo.
Anyone that has met Chance Baumann knows that his passion for agriculture and livestock runs deep. He began his show career at an early age and hasn't slowed down since. Attending numerous local, regional, state and national shows, Chance's hard work has resulted in big payoffs.
The Bauman family of Cheyenne, Wyo. began raising Charolais cattle long before Chance and his sister Kassi were even born. Today, they run a herd of Charolais and crossbred females with approximately 10 donor cows.
"A lot of the cattle we have now can be traced back to some of the original Charolais genetics clear back to the 1960s. But I don't really care what color they are, as long as they are good cattle," Bauman said.
Bauman's interest in the livestock industry sparked the desire to become a feed salesman at an early age. When VitaFerm Area Sales Manager, John Tucker from North Platte, Neb., approached Baumann about being a dealer, he jumped at the opportunity. He was only a junior in high school.
Bauman says his client base has steadily increased over the passed three years since becoming a VitaFerm and Sure Champ dealer. Both he and his clients have proved to be extremely successful in the showring, taking home numerous national show banners and titles.
This summer Bauman added to that total, taking home two very special awards from the 2012 Charolais Junior Nationals in Grand Island, Neb. After a long week of showing, Chance was named Reserve Grand Champion Owned Female. In addition, he also walked away with the Herdsman of the Year Award.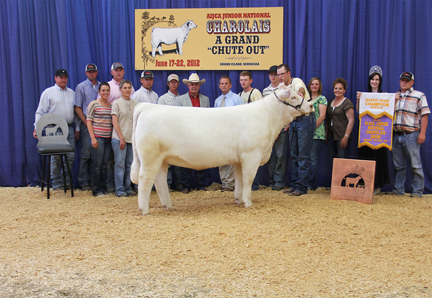 Bauman's most recent champion show heifer, KASS Samantha 120Y, as well as the rest of his livestock, are given Sure Champ as part of their daily ration.
"I think what makes Sure Champ unique is the Amaferm advantage. It keeps my cattle on feed more consistently," says Bauman. "Also, the people within the company make it enjoyable. I am able to create more of a one-on-one relationship with my colleagues as well as my customers."
Bauman has enjoyed the success his family has had using Sure Champ, however he gets great enjoyment out of watching his customers succeed as well.
"The product's track record is the best in the industry. It is very rewarding to know that you have satisfied customers with a great product such as Sure Champ," said Bauman.
Be sure to give Chance a call at (307) 214-4403 for all your VitaFerm and Sure Champ needs. His sister, Kassi and he are also Sullivan Show Supply dealers giving them the ability to offer a wide range of show products. You'll find them on the road at various shows in Colorado throughout the summer.
Best,
Jamie