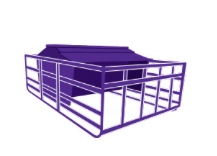 Now is the time to begin thinking about your creep feed rations. At BioZyme we offer three different products that can be incorporated with feedstuffs found at your local mill to create a complete ration, and a fourth product that can be incorporated into any pre-forumulated/bagged creep feed.
Our wide variety of proven products help keep your cattle healthy and efficient. All VitaFerm® products contain the Amaferm advantage, which increases the digestibility of feed and improves digestive health, allowing for more efficient gains.
SURE CHAMP Proven in the showring, but works equally as well in creep feed to help maintain the strong appetite and healthy digestive system needed to unlock the genetic potential of your calves. Contains high levels of essential micronutrients for the extra bloom that show and sale cattle require.
VITAFERM SURE POWER 37 A high protein and macro minerals pellet that is a great fit for building today's modern creep feeds. Contains moderate levels of essential micronutrients to ensure animal performance. Use it alone for commercial calf creeps or together with Sure Champ to build high performance show and creep rations.
SURE START PELLET The ideal supplement for stressed cattle during weaning. This pellet also works extremely well as a creep balancer, bringing high levels of vitamins and minerals when additional protein is not needed. Works well in distillers and corn gluten-based creep feeds.
DIGEST MORE A low inclusion way to supplement Amaferm in any diet. At the feeding rate of 0.5 ounces, Digest More provides 2 grams of Amaferm. Digest More is best suited when additional protein, vitamins, and minerals are not required.
Click here to view the several creep feed rations that our nutritionists have developed using these products. If you don't see what you need please email champ@biozymeinc.com or give us a call and we'll customize a program to your specific needs.
"Not only did we see a 50-75 lb. improvement in gains on our calves by adding Amaferm Digest More to our creep feed, but the overall health of our calves was much better compared to previous years. At weaning we continued to use the new creep feed formula. The noticeable difference in gain continued and we didn't have any sick calves. We would definitely recommend Amaferm to other cattlemen." – KEVIN EATHINGTON, Eathington Angus | Illinois