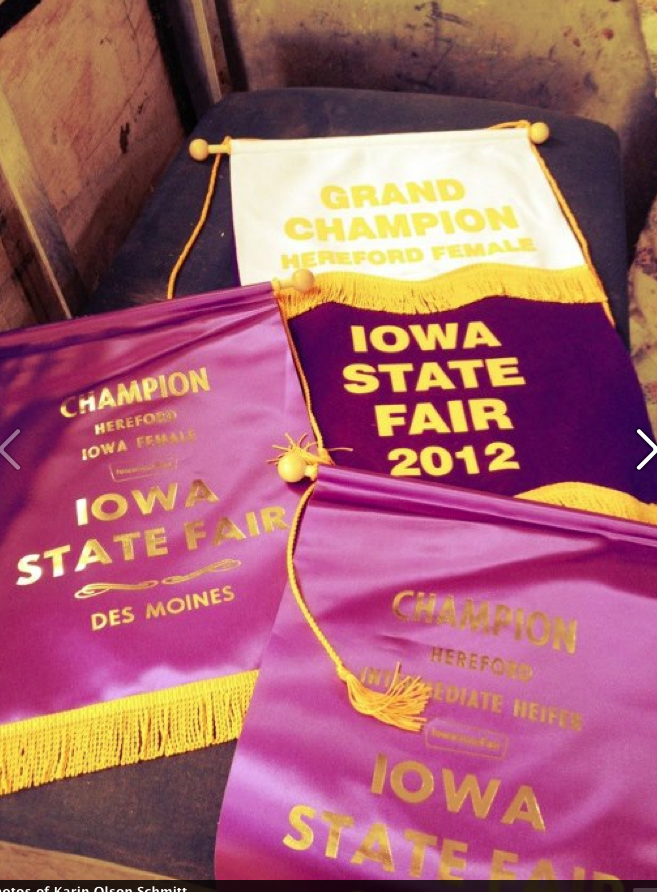 There are a group of people that like to say that they were feeding Sure Champ before feeding Sure Champ was the cool thing to do. I am pretty sure the Schmitt Family of Nichols, IA, would be in that boat. This summer the Schmitt Family had a lot of success and that led to taking home a few banners from the Iowa State Fair. I had  Ron, Karin, Peyton and Logan answer a few questions about why they love the VitaFerm and Sure Champ line of products.
Tell me a little bit about your family's farm. 
We have a small herd of registered Hereford cows, comprised mostly of Peyton and Logan's former show heifers. Peyton and Logan are the 4th generation in the Schmitt family to have Hereford cattle.
You mentioned that you have been using our products for awhile, how long has it been?
In 1983, Ron had a nationally competitive Polled Hereford heifer that he ended up showing across the U.S. A veterinarian/nutritionist suggested that they use VitaFerm in her ration, and we've used VitaFerm products ever since.
How have the BioZyme products benefited your family?
Sure Champ has been very effective in keeping our show cattle on feed and healthy. The heifer that won at the Iowa State Fair maintained a great appetite, even during our extremely hot summer.  Our family also uses the Concept-Aid mineral. We have seen improvements in conception, and as with all VitaFerm products, it helps the cattle convert more efficiently.
Your family had seen a lot of success. If you were to give some advice to other juniors what would you say?
Nothing replaces hard work, so find a project that you are pasionate about. Don't be afraid to seek advice from people you see as successful – 99% of those people will be glad to help. Dedication and persistence are major components of success.