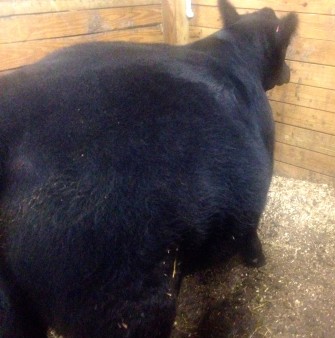 A parent's worst fear is having to tell their child that their 4-H project or prized show steer was found dead in the pen because of bloat. It's something we've all seen and had to deal with. Fortunately, if bloat is caught early enough it can be treated, but in times when no one is around to treat the animal, it can result in the dreaded consequence of death. Amaferm, found in Sure Champ and Vita Charge, has been proven to do many great things for an animal's digestive system and overall health, including the prevention of bloat.
Nutritionist Dr. Francis L. Fluharty, at The Ohio State University, says, "Amaferm has been shown to reduce the time that animals require to resume consumption during diet transition. It helps to stabilize the rumen environment, research proven to increase the growth rate of the fiber digesting bacteria in the rumen, as well as several strains of the lactate utilizing bacteria. Amaferm also has been shown to stimulate the growth of, and lactate uptake by Megasphaera elsdenii, the predominant lactate utilizing ruminal bacteria. Therefore, Amaferm should be effective in reducing the incidence of acidosis, and the side-effect of acidosis: bloat. Think of Amaferm any time calves, or feedlot cattle, are being transitioned from one diet to another, or are under any stress that may impact rumen stability or feed intake."
The Lehman family in Okeechobee, Florida knows exactly what we are talking about as Beth Lehman shared with us, "In May of 2013, we began having problems with our son's steer bloating. Twice we had to have a vet out to tube the calf and relieve the bloat. We tried several different bloat remedies but none seemed to work. Finally, someone recommended we try Sure Champ as well as Vita Charge. Although the nearest dealer was a five hour round trip away, it was well worth it! Within a week of starting the steer on Sure Champ, the animal was no longer bloating. The steer went on to win Reserve Grand Champion at a show a few weeks later. We are firm believers in the benefits of Sure Champ and Vita Charge and recommend it to anyone who is not currently using it".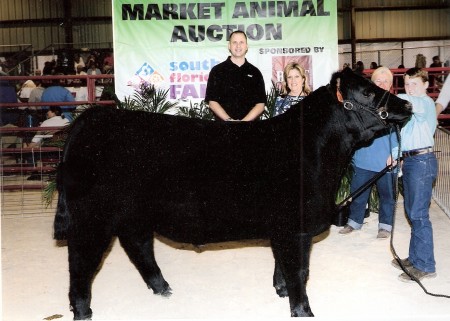 Customers from coast to coast have used Sure Champ to improve overall animal and gut health, resulting in healthy animals and trips to the backdrop for those exhibiting them at shows.
Click here to find your nearest dealer. If you have a nutrition question email champ@biozymeinc.com.