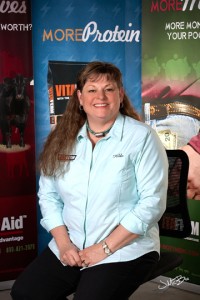 BioZyme Inc., maker of VitaFerm and Sure Champ, named Hilda Mordhorst as the new South Dakota Area Sales Manager. Mordhorst will be providing customer support and assistance to the BioZyme dealer network.
"To work for such a compassionate company with real interest in upcoming generations and all livestock producers is an honor. I know first hand how hard livestock producers work and that they need the best supplements, at the least expense for their livestock," says Mordhorst. "I am very excited to help those producers put the Amaferm advantage to work for them."
Mordhorst brings extensive hands-on knowledge to this position. Mordhorst's passion for agriculture began while growing up on a custom feedlot and cow/calf operation. Prior to joining the BioZyme team, Mordhorst and her husband, Jim Bumgarner, ran a successful BioZyme dealership under the name Red Rock Feeds. Mordhorst has seen the success of the VitaFerm product line in both her customers' herds and their own operation. Together, Mordhorst-Bumgarner and their family run a herd of commercial and registered Angus cattle on their ranch in Wilbaux, Mont.
"Hilda has a true passion for people, livestock and animal nutrition," says Lisa Norton, BioZyme Vice President of Sales and Marketing. "We are honored to have her joining our team and know that our dealers and customers, throughout Montana and South Dakota, will benefit from her enthusiasm and knowledge."
Mordhorst has two children, Rory [Annie] and Hank. Mordhorst and her family are also involved in supporting the local 4-H program and rodeo teams.
For more information on the VitaFerm line of products or to find a dealer near you, please visit www.biozymeinc.com.