Holy moly where have the past two months gone? It seems like just yesterday I arrived in St. Joseph and stepped foot in the BioZyme offices for the first time.
It has been an amazing summer filled with blood, sweat, and LOTS of Sure Champ!
Being a hog girl I have to say I'm a little partial to our first event of the summer, World Pork Expo. It was great to see so many familiar faces and getting to reconnect with old friends as well as make new ones. As we began our cattle junior national marathon a few weeks later, I soon became very fond of many things including: coffee, early mornings, late evenings, hotel rooms, fast food, and ice cream.
The past two months of my internship have not gone without a dull moment! We have had many laughs, surprises, and unexpected events happen that has made this experience an unforgettable one.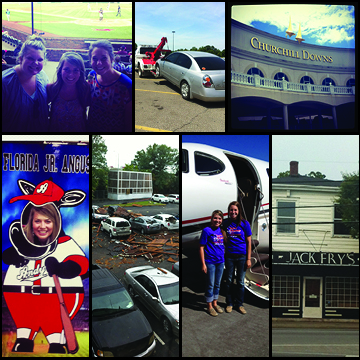 I now know what to do, and not to do, when your car breaks down in the Wal-Mart parking lot! Thanks to my clumsiness, I was able to manage to drop my phone, cracking the entire screen at Hereford Jr. Nationals (Surprise mom!). And last but certainly not least I learned anything and everything a person needs to know about cattle and hogs thanks to the glorious trivia wheel!
While we were in Louisville we were so thankful to finally see some rain. Little did we know that rain also brought severe thunderstorms that carried the roof of our hotel away. It made me feel like I was back in Oklahoma again.
Also while in Louisville, Robin (the other intern), Kevin Glaubius (Sure Champ's PHD Nutritionist), and myself were on our own for dinner one night. We decided to try a new place and stumbled upon a place called Jack Fry's. As you can see from the photo above it doesn't look like the fanciest place in the world. Boy, were we wrong! Walking in we quickly noticed we were the only ones not in a business suit. We actually were wearing the complete opposite – boots, jeans, & Sure Champ attire! You can imagine the looks we got! However, by the end of our meal we had forgotten that we stuck out like sore thumbs because we were side tracked by the AMAZING food!
So…moral to the story, never judge a book by it's cover and as classy as we all think our boots and jeans look, the working crowd in Louisville tends to disagree!
Without the help of many I would not have been able to experience any of the things I was able to this summer. First and foremost I would like to thank Bob & Lisa Norton, owners of BioZyme Inc. They made me feel right at home and are people that I will forever admire and respect. I'm definitely going to miss Lisa's cooking when I return back to Stillwater!
Secondly, I'd like to thank Crystal Blin for making this experience an amazing one. Crystal taught me so many things this summer, including how to shoot manually with my DSLR camera! She's a wonderful woman who I look up to in many ways! Lastly, I'd like to thank the other interns. You both are amazing girls who have such bright futures. We had many laughs together and I know I will never forget the crazy, eventful moments we shared together.
Finally, I want to encourage every college student out there to seek out internship opportunities and take full advantage of them! This by far has been one of the best experiences of my life and I will be forever grateful for my time with Sure Champ!
Best wishes,
Jamie