Happy Thursday Everyone!
It's almost the weekend! While you are reading this, I'm at my family's last ever Lake County Indiana 4-H Beef Show … I expect a few tears to be shed.
I decided to recap my internship experience with Sure Champ by listing my top 5 favorite memories.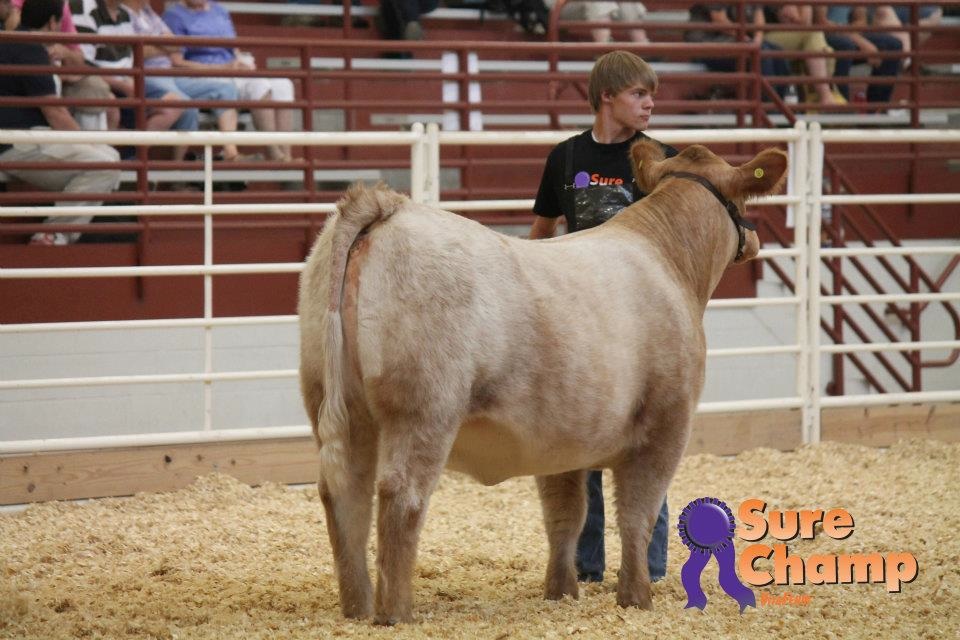 1. Watching my little brother Joey excel at what we started doing 10 years ago – showing cattle. Anyone that knows us, we are freakishly close. We have lots of inside jokes and share a lot of the same qualities: we're responsible, love helping others and like a good Arnold Palmer every now and then! We also love cattle and I was proud to photograph him at the 2012 National Jr. Shorthorn Show in Grand Island, NE in the ring and in various contests. And in case I haven't told him, Joe – you're a better stick than I ever was.
2. Learning to shoot my DSLR camera in manual mode! This was a huge step for me, and I really saw my photographs improve during our 2 month internship. All of our photos got posted on Facebook, and I was really honored when you chose to make my picture your profile picture! Here's my favorite photo I took – congratulations to the Lemenager Family (long time Sure Champ customers) on your recent Champion % Simmental Cow/Calf at the Simmental National Summer Classic.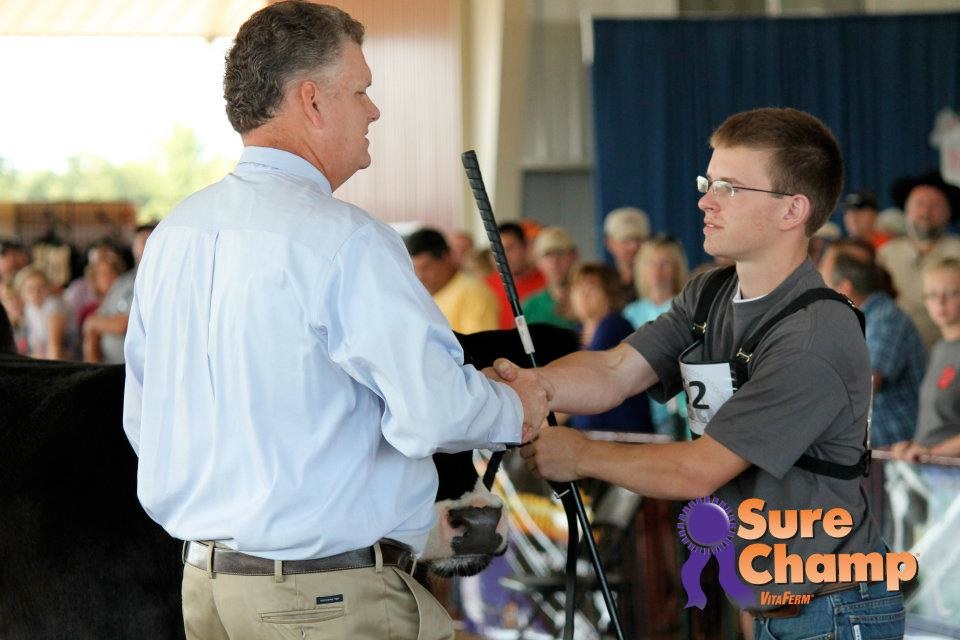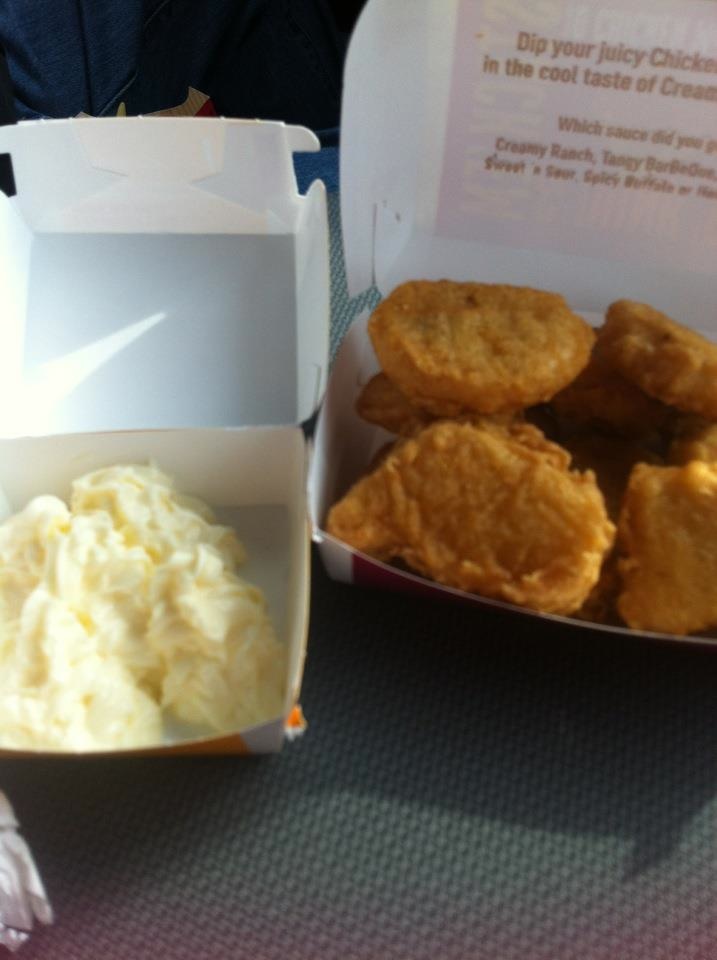 3. While by the end of our 37-day road trip, I was tired of eating out … we still ate at some amazing restaurants! Some of my favorites were my teriyaki ribeye at Uncle Ed's in Grand Island, NE, my lobster ravioli at Napoli in Grand Island and my pork chop at Jack Fry's in Louisville, KY. Basically, I'm a closet foodie so I always like trying new restaurants and items! But sometimes, we had to eat fast food. The funniest thing that happened was the disaster of a meal I ordered at McDonald's for our last meal of the journey in Missouri. No one wants a box of mayonnaise – EVER.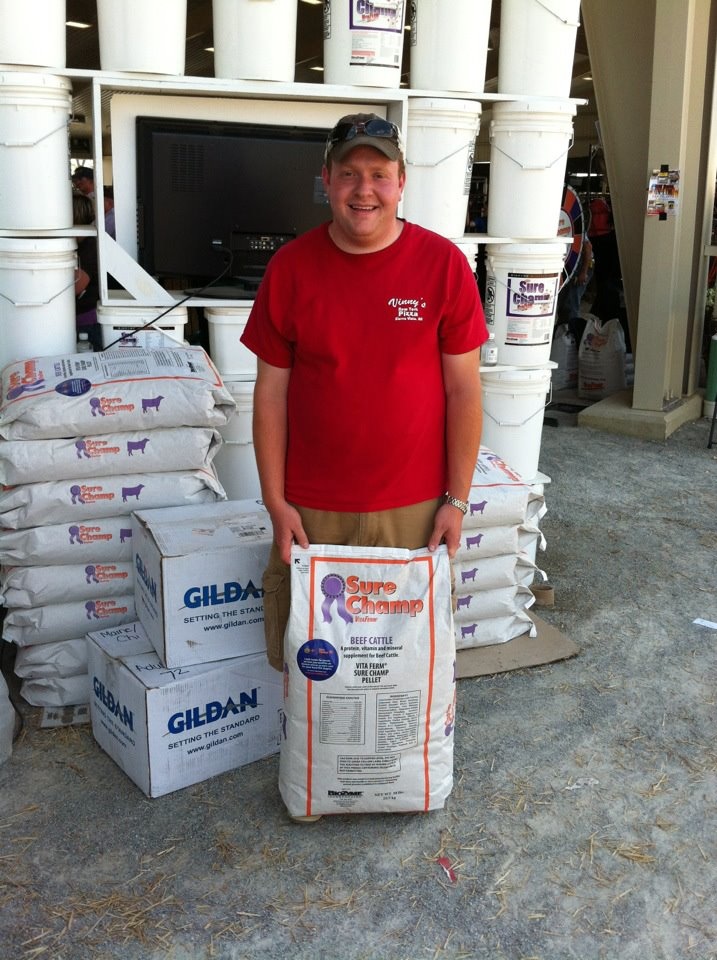 4. I had never had to really sell anything! So the sales part of my internship really intrigued me! But when the product is so good, and you use it personally on your livestock — it's easy to sell! I got a little thrill with each bag I sold, especially when my salesmanship and knowledge convinced the customer. Thank you to everyone who encouraged me, and even just listened to me while I gave my sales pitch. I got so into it, I couldn't stop talking about Sure Champ all summer! And I'll keep promoting it (without pay) because I believe in the product that much.
5. I am a people person. So the people I met along the way really made the internship for me. Our customers are pleasant people, who love to talk livestock – like me. But I must thank Bob & Lisa Norton and Crystal Blin for choosing me as the Public Relations and Sales Intern this summer. I am passionate about livestock and people, and this really combined those loves into a job. As I enter the "real world" in December, I can only hope to work with BioZyme Inc again. I'd also like to give them a big "virtual hug" for being such good hosts and mentors. The other interns and I also got really close because we spent so much time together, and frankly enjoyed each other's company.
There you have it, my summer in a short blog post. Also, thanks to you for reading our blogs this summer, I hope you enjoyed our lame attempts at jokes and the ridiculous things that happened to us! We enjoyed getting to know you, meeting you in person or via email/Facebook/Twitter/Instagram.
Best,
Robin
P.S. – To read my intro blog from two whole months ago- click here.