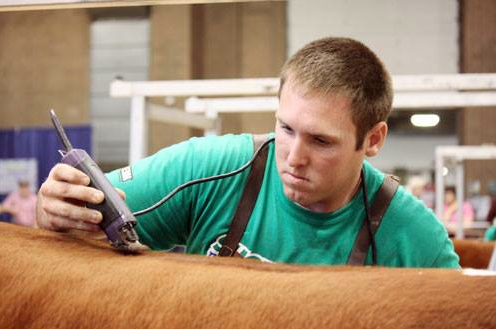 This week we are excited to feature Cameron Curry in our Junior Spotlight. Cameron has had an unbelievable summer completing a lot of big goals inside and outside of the showring. It has been fun to watch Cameron's hard work pay off this summer, and although his junior career is coming to a close we think this young man will be a cattlemen everyone will be keeping their eye on.
Tell us a little about yourself and your family.
Together with my dad, Curtis, my mom, Donna, and my sister, Staci, we operate the third generation Curry Hereford Ranch in McAlester, OK. My grandpa originally started the ranch. We have about 125 head of Hereford cows. This year I am a senior at Oklahoma State University, majoring in Animal Science and Ag Business with a minor in Ag Economic.
How did you catch the show cattle bug?
I remember going to shows to watch my uncle Steven, who was probably 21 at the time. I was only 3 or 4 years old and I would just play in the dirt and watch him. In 2001, at the Junior National Hereford Expo (JNHE) in Tulsa, I showed for my first time. My sister had a cow/calf pair and I got to show the calf. I probably showed it completely wrong, and we got last, but when we walked out of the ring my parents told me I got first and I was hooked.
At this year's JNHE you were Reserve Senior Showmanship, how did you get to that level?
Everyone in the ring wants to do good and you can get worked up easily. Remaining calm is one of the most important things. If you are relaxed your heifer will be relaxed and that's when you can get her to do the things you need her to do.
I still remember, when I was 15 or 16 years old going up to the ring to watch the really good guys show in the Open Show. By watching them I would pick up on the small things that can make a difference in how your animal looks. How they handled their showstick or held a heifer's head. I liked to watch Brett Barber and Todd Herman. Those guys were always calm and collected in the showring, and their cattle always looked great. They probably didn't know I was watching but I was.
Finally, showmanship starts at home. That is where you and your animal get to know each other. Even if you aren't getting in your heifer to wash her or work on her just spend some time in the pen to get to know your heifer. I am lucky at school that I have a place with a barn and 10 acres so my cattle come with me, and I get to be the one to continually work with them.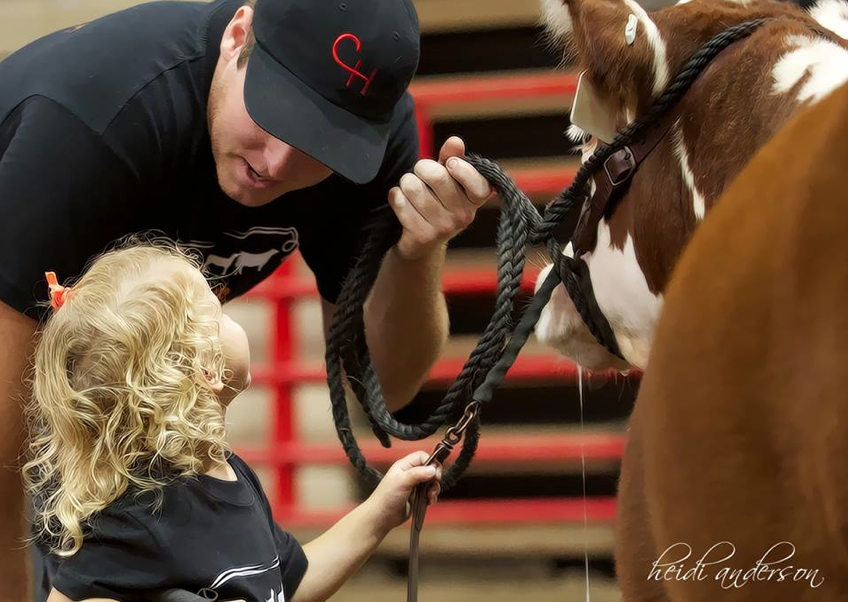 In addition to doing so well in showmanship at the JNHE you were also selected at Herdsman, which is voted on by your peers.
Honestly, that was the biggest honor that I have ever achieved. Winning showmanship was an awesome feeling, but Herdsman is what I have been shooting for, for a long time. My family started from the ground up with our herd and this year everything I took to Junior National was out of our cows and bulls. When you raise your own cattle and still compete with all the calves that are top of the line that makes you feel good. We don't win every time but to be right there with them is an awesome feeling.
This summer you accomplished a lot of your goals, what is in store next? 
This fall we are going to have our second Internet sale with 25 heifer prospects. Our herd is already known for good momma cows and now I want us to be known for also having really good show cattle. In 5-6 years I hope to have an annual production sale.
I would also really love to win a national show with a heifer or bull we have raised. We have won 15 divisions at the National Western Stock Show, and the judge has even said over the mic that we had the third best heifer in the Grand Drive but we have never won it all.
 Your family has used Sure Champ for a long time, what difference has it made in your show cattle?
Sure Champ has done wonders for us. We started using it about eight years ago and haven't stopped to this day. I feel that Sure Champ gives them the bloom they need for the showring, as well as keeps them on feed more consistently. From weaning to bred heifers to showing three-year-old bulls I feel like there isn't a better supplement on the market.
What is one piece of advice you can give to juniors?
Have fun. I am extremely competitive and sometime I forgot about having fun. It isn't all about winning. It is about hanging out with your friends and family. Each show we go to is like a family vacation for us. You should be going to cattle shows to compete, but also to enjoy it.