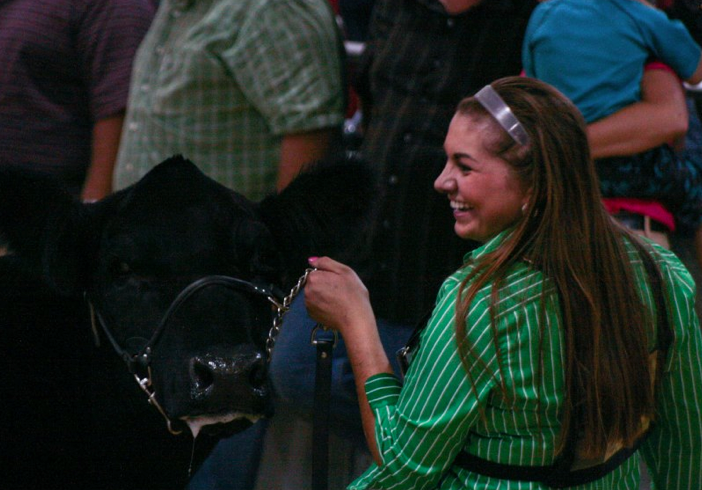 This summer I got to know Sure Champ customer Elizabeth Heaton from watching her show at Junior Nationals. Three things that I quickly learned about Elizabeth 1. That girl knows how to stick one, 2. She is extremely hard working, and 3. She has a huge smile. Elizabeth agreed to be interviewed for our Junior Spotlight so we could all learn a little more about what makes her tick, and learn from her experiences.
Tell us a little bit about yourself
I currently 18 years old and I live on our farm in Toulon, IL. I have been showing cattle since the age of 8, although I did not begin showing competitively until age 13. I show Maine-Anjou and Chi heifers along with a few Simmental females. My family and I manage about 40 Maine-Anjou influenced cows along with an active embryo transfer program.
How has Sure Champ benefitted your show string and made you more competitive?
Sure Champ is a great product, this is our first year using it and by far this was the best summer we have ever had. My family and I exhibited the Res. Champion Chi Heifer at Jr. Nationals as well as the Supreme Champion Female at the Illinois State Fair. Sure Champ has been a great product in keeping our show heifers healthy with the added vitamins and minerals, this in turn of course helps keep them on feed at the shows which we all know is so critical.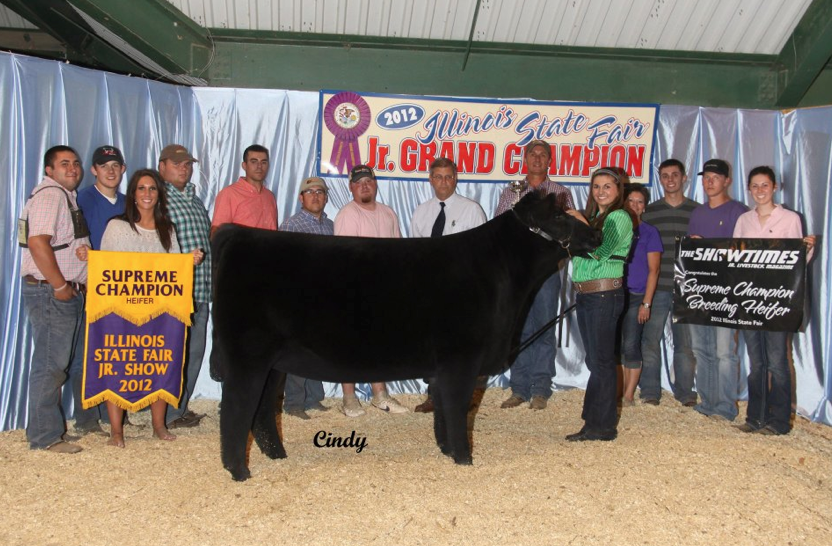 What is one of your biggest accomplishments in the showring and why does it mean so much to you? 
As I mentioned this summer I exhibited the 2012 Supreme Champion Female at the Illinois State Fair and raised the Reserve Champion Female. It was a very humbling experience to accomplish something only a select few exhibitors achieve in their junior show career. It proved to me once again that all the time spent working does pay off in the end. Winning the State Fair was one of the major goals I was wanted to achieve, It was a goal that seemed unachievable but it showed me that all things are possible.
Who is your biggest role model? 
My biggest role model is my brother Jon. I strive every day to follow in his footsteps. I look up to him and he has taught me much of what I know. He has been very successful in the showring and in the livestock judging setting. I hope someday I can be as successful as him. One of my other role models is a family friend, Jason Minnaert, he has been a great mentor to me. He really was the one who got my brother and I started in competitively showing cattle. We owe much of our success to his teaching and guidance.
What is the biggest piece of advice you can give to other showman? 
People always say that anything is possible, but they seem to leave out the fact that you have to work for it. You have to be committed to what you are doing and truly have a passion for it. You shall reap what you sow. If you don't put anything into your project you won't get anything out of it. But, most of all through all of this hard work be sure that you enjoy yourself. Make sure you are having fun. If it isn't fun for you then you aren't going to have that drive to work hard.
What are your future plans?
After earning my associates degree at Black Hawk East College I plan on transferring to a four-year university. I want to do a double major in Ag Business and Ag Communications at a college such as Oklahoma State University. After I complete my bachelor degree I plan on moving back home and managing the cattle herd with my brother. My goal is to sell show cattle throughout my life with my brother and I hope to judge quite a few shows along the way as well.