The livestock industry is filled with amazing, talented and inspiring young people, and this junior spotlight combines all those attributes into one of the most sincere and appreciative juniors I have met. Steve Jobs once said, "The only way to do great work is to love what you do" and it's safe to say that this is why Emma Vickland does such great work; it's because she loves it! It is with home state Colorado pride that I invite you to read about our newest Sure Champ Junior Spotlight, Emma Vickland. – Britney Creamer
Tell us a little about yourself.
I grew up in Longmont, Colorado on a diversified cattle operation with my Mom and six other siblings, where we raise and show many different breeds of cattle. From the moment I was big enough to reach a calf's halter and hold a show stick in my hand, I was hooked. My entire life has been molded around the livestock industry, and I wouldn't trade that for the world. In addition to successfully showing cattle in dozens of states while in 4H, I also competed on a two-time National Champion 4-H Livestock Judging Team and was the High Individual at N.A.I.L.E.  I recently graduated Summa Cum Laude from Redlands Community College with an associates in Animal Science. While I was studying there, I participated as a member of the National Champion Livestock Judging Team, Aggie Club, and Phi Theta Kappa Honor Society, and I also achieved the status of an All-American Jr. College Livestock Judging Contestant. I am also currently serving as an At-Large Director for the American Junior Chianina Association.
What species do you show and who has influenced you most in your show career?
Although I am dedicated to showing multiple breeds of cattle, I have also enjoyed showing hogs, goats, turkeys, and even rabbits. There have been so many people that have influenced me in my show career, in fact too many to list. Some of these people include my siblings, Ryan Johnson, Chase Reed, Colby Taber, Ed Cody, Scott & Jared Werning, Nick Riemann, Todd Caldwell and Crew, and many more but the most important person that has influenced me is my Mom. She is by far the hardest working, most ambitious, and independent thinking person I will ever know.  She continues to practice medicine, manage our family's cattle operation, and raise seven children after my father's death in 2005. She has so much drive and passion for showing, raising, and managing cattle. I hope to one day become half as accomplished of a businesswoman and stock show mom she is.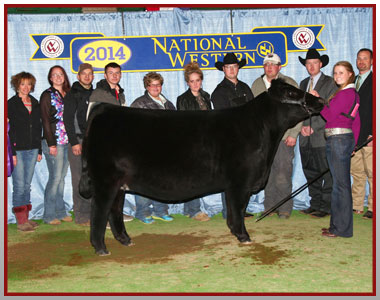 Tell us about the success you have had this year as well as last year. 
 The past few years have been very exciting and rewarding for my family. Not only have we been successful, but our customers have also experienced success with cattle that we raised. Some of the most memorable wins include:
Grand Champion Simmental Heifer, 2014 NWSS Jr. and Open Shows
Reserve Grand Champion Maine-Anjou Bull, 2014 NWSS
Res. Grand Champion Bred & Owned ShorthornPlus Heifer, 2014 Shorthron Jr Nationals
Champion British Steer, 2014 NWSS Market Steer Show
Division Champion MaineTainer, 2014 Maine Jr Nationals
3rd Overall Sr. Chianina Showman, 2014 Chi Jr. Nationals
Res. Division Champion ShorthornPlus, 2014 Shorthron Jr Nationals
Res. Division Champion Purebred, 2014 Charolais Jr. Nationals
Reserve Grand Champion Steer, 2014 Sneak-A-Peak
Reserve Grand Champion Steer, 2014 KSU AGR
Reserve Grand Champion Heifer, 2014 SDSU Block & Bridle
Grand Champion Simmental Female, 2013 American Royal
Grand Champion Simmental Female, 2013 AJSA National Classic
Division Champion Bred & Owned Maintainer Female, 2013 Maine Jr, Nationals
6th Overall Chianina and Maine Showman, 2013 Jr. Nationals
Reserve Div. III Mainetainer, 2013 American Royal
Grand Champion Heifer, 2013 Utah State Fair
Champion Maintainer Heifer, 2013 Illinois State Fair Open Show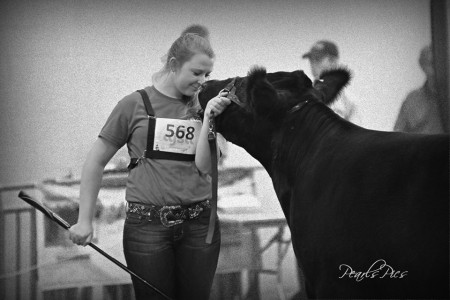 What is one of your favorite showring moments?
I had many special showring moments this past year with my Simmental Show Heifer "Rollar Girl" that I will cherish forever and always. However, one of my favorite show ring moments was back at the 2011 Maine and Chi Jr. Nationals, because I learned something I still carry with me to this day. It happened to be during the intermediate showmanship finals being judged by Greg and Pearl Walthall. During the finals, my heifer started to act horrible, even throwing her head and trying to head-butt me.  I can still remember the speech that Greg and Pearl gave about how sometimes being a good showman is not always about being perfect 100% of the time. It's about being courteous to other exhibitors, staying calm and professional no matter the circumstances, and showing to the best of your ability when your animal doesn't act perfectly. Much to my surprise, I ended up being the Champion Intermediate Showman that year, but more importantly Greg and Pearl's wise words now reside in my head every time I walk in a show ring.
How has Sure Champ helped you achieve success in the showring?
Right now the commercial and show cattle industry are at an all time high. Cattle prices are through the roof, junior programs are thriving, and cattle genetics and quality couldn't be better. But in light of this exciting time in the industry, it's also important to remember that maximizing cattle's potential in the showring or in your herd first starts with proper health, nutrition,  and appetite. We use many Sure Champ products for our show cattle and cow herd, and we are certain that healthy cattle are happy cattle, and happy cattle have "more wins".
What are your future plans?
My family has been incredibly supportive of my passion and dreams. A few of those dreams have started to come true, and I know that with determination that will continue. Some of those dreams include having my own diversified cattle herd that consists of many elite national champions, having success in livestock judging, balancing school and my extra curricular activates, and making an impact on the lives of young livestock enthusiasts. I plan to attend Colorado State University in the fall and double major in Animal Science/Ag Communications. While at CSU I plan to participate on the Livestock Judging Team and be a member of the Brock and Bridle Club. After graduating from CSU I want to purse a masters degree in Agriculture Communications. My future dream job would be working as an international communications agent for an American cattle breed association. America's international cattle exports are increasing every day and the need for an international breed improvement position may be needed in the future.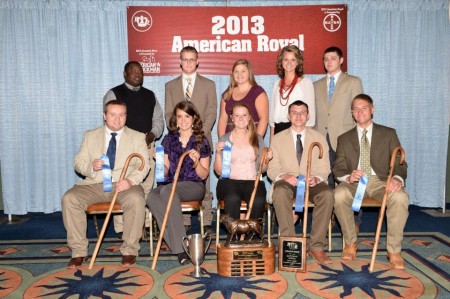 What advice would you give to others that hope to become successful like yourself?
One thing that I have learned from getting older and showing a long time is to always try to have good sportsmanship in and out of the ring. We all know that in todays show cattle industry emotions, competitiveness, and cost all run high, but it's important to remember that we all serve a greater purpose of advocating for animal husbandry, agriculture, and ultimately feeding the worlds population.