In this junior spotlight we bring you John Reasor. John is a junior that always stands out, not only because of his success in the showring, but he brings a passion to the livestock industry. John is also always there to lend a hand and help other juniors succeed.
Tell us a little bit about yourself.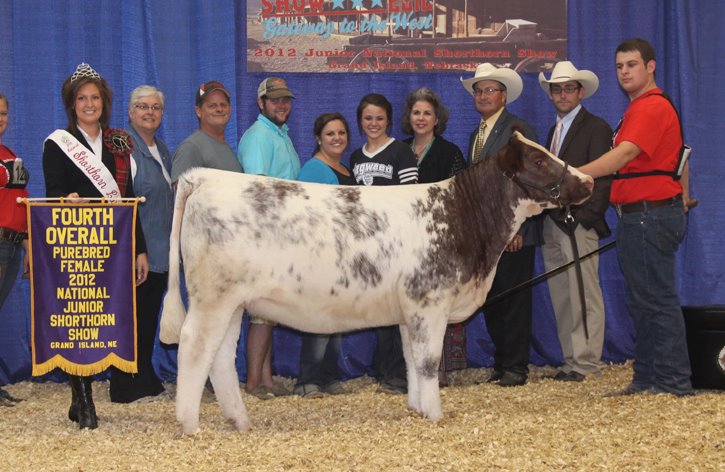 I am a home schooled high school senior residing in Wildwood, Georgia, 15 miles south of Chattanooga, Tennessee. We own a small parcel of land where we run approximately 15 Shorthorn donors and a handful of recipients. Reasor Farms was officially established in 2010 when I decided to
change the direction of what we as a family started. Since then we have raised many champions at local, state, and national levels.
How did you get involved in showing and what do you show?
Growing up in a suburbanized area I had no interest in the family business of raising cattle until I was faced with the opportunity to show a calf for our local veterinarian at a small livestock show nearby. This is where my competitive nature was unleashed and I was determined to win at all levels. The first shorthorn heifer I showed was far from being a great one by any means. I still enjoy looking back at the pictures to see the progress I have made in 7 years. Henry Ward Beecher says it best, "We should not judge people by their peak of excellence; but the distance they have traveled from the point where they started."
Beyond the showring what else are you involved in?
As I began traveling to shows and sales and getting involved with the Georgia Cattlemen's Association and American Junior Shorthorn Association I began to research the opportunities these programs had to offer. Since going to my first National Junior Shorthorn Show in Kansas, I gained a respect for junior board members with the amount of work and dedication they portrayed for the Shorthorn breed. Three years later, I ran and was elected to a 3-year term as a Director on the board. I also served as Chairman of the Georgia Junior Cattlemen's Association where I developed innovative membership recruitment to better serve the state of Georgia's cattle industry. Through the positions, I stay up-to-date with industry events and serve as an 'Agvocate' to spread the word of great American agriculture.
Talk a little bit about the marketing you've been creating. I've been noticing your Reasor Farms social media marketing.
In the summer of 2012, I interned with Little Cedar Cattle Company in Beaverton, Michigan, a Shorthorn and Angus farm. While there I began learning the continuity of some Adobe programs from Julie McMahon French, one of the best in livestock and horse marketing. This is when I discovered I could promote Reasor Farms and learn some 'tricks of the trade' in marketing and design. In my spare time, ads made for sale cattle or show ring success get viewed on social media such as the Reasor Farms Facebook page and Twitter. While we have not had any ads printed in routine magazines yet, we have grown our cliental through social media.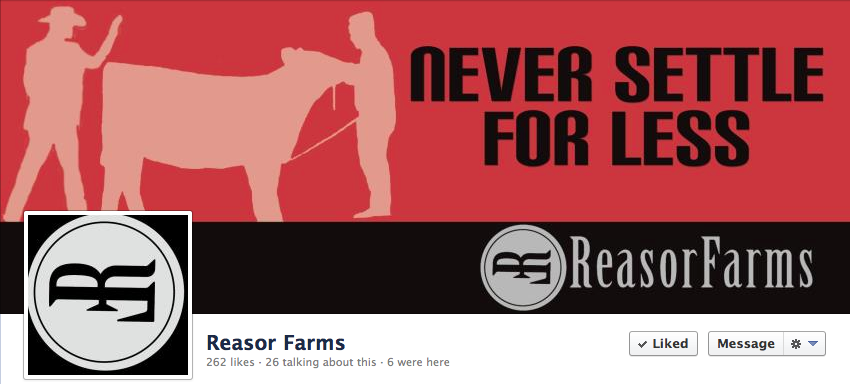 How long have you been using Sure Champ and what results have you seen?
Sure Champ was introduced to me in the fall of 2009 at the North American International Livestock Expo and we have fed it since that day. The product BioZyme has created has helped make our show cattle compete at national shows across America. Keeping cattle on feed during a hot Georgia summer can be a challenge, but with Sure Champ we are able to tackle this feat and take on a junior national with pride.
Any superstitions or things you do for good luck?
My only superstition is a good attitude. "Attitude is a little thing that makes a big difference."- Winston Churchill
What are your future plans or goals?
Thanks to my parents, being raised to always help others has helped shape who I am as a young adult. Changing the world may seem like a prodigious task however one person at a time spreading the validity about the beef industry is the only way to insure a better life for younger generations. While I am uncertain of the career I would like to peruse at this time, I want to continue to seize every opportunity available in this industry.