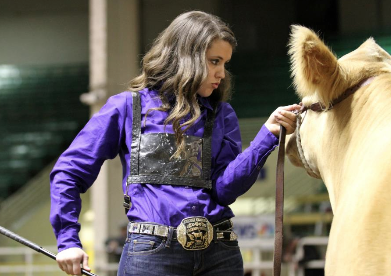 Sure Champ is excited to profile Kyndal Reitzenstein in our Junior Spotlight. It was about a year ago that I began to get to know Kyndal. She had recently won Grand Champion Prospect Heifer and Reserve Champion Prospect Steer at the National Western Stock Show and her family couldn't say enough good things about Sure Champ, Vita Charge and Concept-Aid. It has been fun to watch Kyndal this pass year. She is a fierce competitor in the show ring and livestock judging arena, and does it with a gorgeous smile.
Tell us a little bit about yourself.
I am 18 years old, and I call Kersey, Colo., my home. Currently I am attending Redlands Community College in El Reno, Okla., on a livestock judging scholarship. I have one brother names Austin, and along with my parents Mark and Kaye. My family, including my grandmother and uncles, have a rather large cattle ranch in Fort Morgan, Colo. and this is where my love of cattle began. We run close to 400 head of primarily Angus cows, with a handful of commercial and club calf cows. Ever since I was old enough to go out to the calving pen with Papa, I have been addicted to showing cattle.
How long have you been showing?
I have been showing since I was five years old. I started showing bucket calves at my county fair, and others in the area. When I was eight I started showing Market Beef and Breeding BEef in 4-H. I can thanks my family for pushing me into the cattle industry. Both my parents, my uncles and aunts were very involved in the show industry and thankfully it rubber off on me.
You had a very successful 2012, what are your goals for 2013?
This past year, I can say my family and myself got very lucky. We were fortunate enough to be very successful at the 2012 NWSS, showing the Grand Champion Prospect Heifer, Reserve Champion Prospect Steer, and Grand Champion Charolais Composite Heifer. At this time it was just weeks after I had a serious ankle surgery and ligament reconstruction, so I owe a lot of thanks to family and friend who made Denver successful. To continue on the year, my brother and I won a few jackpot shows with our heifer named "Peaches" and our steer "Triple C." After the jackpot show season it was county fair time. My brother exhibited the Reserve Grand Champion Steer, and perhaps one of our proudest wins was being named Grand Champion hog the following day. Soon after, the Colorado State fair rolled around. Peaches was Reserve Champion Junior Female and Austin's Simmental heifer "Sweetheart" won the Open Breeding Female show. Directly after State Fair, I had to take off to college. This meant Austin had to work even harder to get the cattle looking right. Kansas City was the next show. Peaches was Reserve Junior Yearling heifer and Sweetheart won her division. After this show, the heifers were kicked out for a while to be "cows." When December rolled around it was time to start gearing up for Kansas Beef Expo. We concluded 2012 with achieving Reserve Grand Champion Bred Heifer and Champion Simmental in one ring. It was a great way to conclude an amazing year. When 2013 started, we knew it would be a tough year. We were fortunate this Denver to return home with Grand Champion Charolais Composite Female and Grand Champion Prospect Feeder Heifer.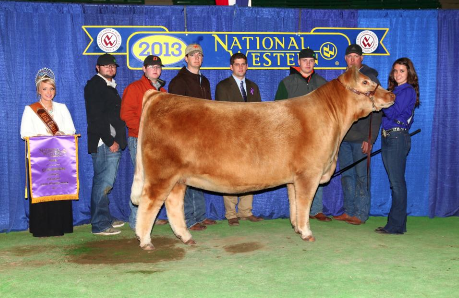 As this year starts off, I do have a few goals for myself. I always challenge myself to work harder. My motto has always been that "hard work pays off." My goal is to work harder than ever this year. Another goal is to help my brother step out and get his fair share of success. He has always had to follow in my footsteps and I want him to have the spotlight now. He works harder than any kid I know, and I know it will pay off in the long run. My final goal is to reach out and meet new people. It is amazing how many people share the same interests as me, and I enjoy meeting them and creating new friends for a lifetime.
How long have your been feeding Sure Champ and what benefits have you seen from it?
We have been feeding Sure Champ for as long as I can remember. We now are feeding it to every calf we have on feed and even the pigs. The addition of Sure Champ, Vita Charge, and Concept-Aid has given my family the opportunity to maximize the performance of our cattle. These cost-effective products allow us to keep the desired bloom and appetite both at home and on the road. Sure Champ is a product that everyone should use. We believe in it and think it takes our livestock to the next level inside and out of the show ring.
What is one of your most memorable wins or show stories?
Perhaps one of my most memorable wins/show story is winning the Prospect Heifer Show in 2012 at Denver. I had had reconstructive ankle surgery just weeks before the show. I was actually supposed to be in a cast and crutches throughout the entire Denver. But of course, this wasn't going to fly with me. I got my cast off the day before Peaches showed. I was in a walking boot, but quite honestly this did nothing for me. My ankle was extremely sore and it hurt to even take a step. I wasn't going to let this stop me though – Peaches was way too special. As we were walking out of our class, Peaches decided she wanted to act like a Princess and she stepped on my ankle. Immediately, tears came to my eyes and luckily Mike was there to take Peaches because I dropped the halter instantly. My dad had carried me off to sit on a chair and ice my ankle. When it came time for Grand Drive, I could barely walk I was in so much pain, but as soon as I walked into the ring it's like all the pain went away. Peaches showed like a champ and come to find out, she was good enough to be slapped as Grand Champion.
Do you have a good luck "thing" or any show superstitions?
One "good luck" thing that Austin and I do for every animal we have shown is come up with a theme song for each of them. Most people thing we are lunatics, but each time we show one we always listen to their song before they show. I also have a lucky show stick. I have shown with it since I was about 10 years old.
What are your future plans?
After I finish at Redlands Community College, I plan on attending a senior college to continue on the livestock judging team. I would love to continue in my father's footsteps in becoming a veterinarian and specialize in embryology in cattle.