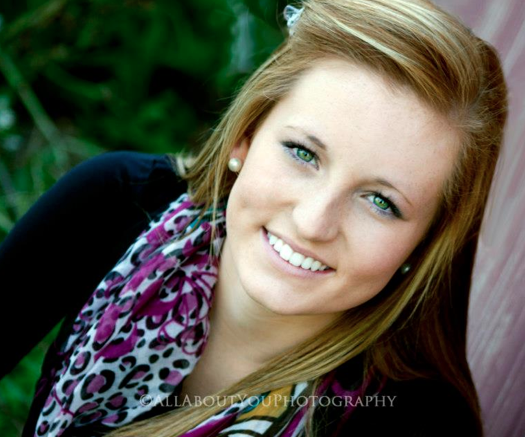 Tell us a little bit about yourself and family.
My name is Maddie Caldwell and I am from the small town of Elmwood, Illinois. I am currently a sophomore at Elmwood High School and am actively involved with spirit squad and FFA. I am the older of my two siblings, Olivia, who is currently in 5th grade and Cole who just started 2nd grade. My parents, Todd and Kim, introduced me to the livestock industry within the first year of my life, as both of them had also grown up showing livestock. I soon caught on to life in the barn and was often found trying to keep up with the boys working around the farm.
When did you begin showing?
At the age of five I showed my first livestock project, a steer named Ronnie, at a show in Donnellson, Iowa, and immediately loved being in the showring. It wasn't until a few years later that I was introduced to an animal that would change my perspective completely. In the fall of 2009, my dad's business began to grow and he started selling more and more show cattle causing it to be challenging for me to have a steer of my own as it could potentially compete with his business. We had a few kids working in the barn that year, one of them being Grant Weisinger, otherwise known as "Bubblegum." His family had been showing and selling pigs for years, so he decided to bring down a barrow for me to show at the 4-H fair the following year. As I worked with my barrow, Atlas, I realized that I had found the animal for me. Ever since that year I have been showing pigs around the U.S.
What are some of the goals you have been working towards?
Throughout the past year, I have had the opportunity of traveling around from state to state showing at each and every show possible. I have had the opportunity to fulfill so many of my goals, but one of the most memorable was winning Reserve Grand Overall NJSA Gilt at the World Pork Expo. I have always loved the Duroc breed and walking into the Grand Drive that night was something I will never forget.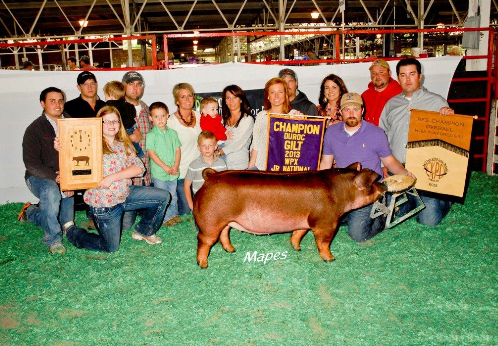 Looking forward, one of my biggest goals is to make it to the Sale of Champions at the Illinois State Fair. I have learned throughout my show career that to accomplishment my goals I will have to work hard, and never give up. The nights of walking pigs with umbrellas in the pouring rain, or going out to the barn on holidays to work are just a few reminders that hard work and dedication to what you love pays off.
How has Sure Champ impacted your success?
We have been using Sure Champ products for as long as I can remember in our show barn. Not only has it become an essential tool with the pigs, but also has benefitted the livestock in our cattle barn. With Sure Champ we immediately noticed that our gilts were eating more aggressively, and their energy increased. As much as anything, we love the way they never backed off of feed when going to shows.
What piece of advice would you give to other junior members? 
My advice would be to live up the opportunities you have. I am beyond blessed to be part of one of the greatest industries in the world. Not many kids my age have the opportunity to be part of something so amazing. The miles we travel, the people I have the opportunity to meet, and the life lessons I learn along the way will be with me forever.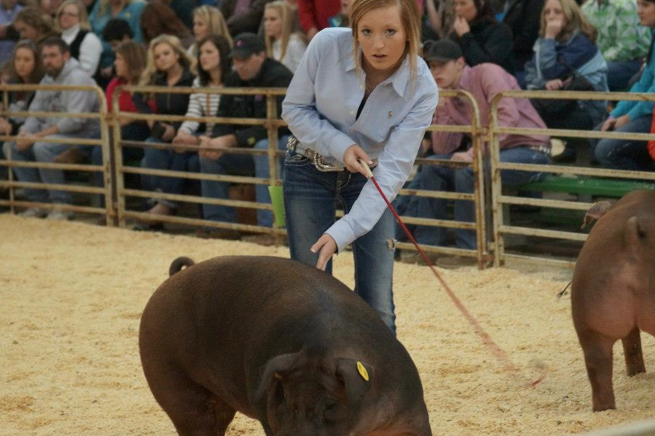 Does your family have any superstitions or good luck routines?
We always play the same song as we pull into each show. It started a couple years ago when we had a gilt named Adele, and we would play "Rolling in the Deep" right before each show. After that each summer we started naming a gilt after a singer and then played one of their songs each summer.
To read our other Junior Spotlight click here.