Happy Monday Everyone!
Hope you are recovering from your weekends, which I'm sure were full of livestock shows, family fun and some relaxing! We're back in St. Joseph, preparing to leave again on Friday for our first cattle junior nationals in Lima, OH — it's certain to be a busy week around the office.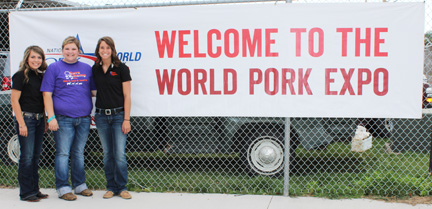 On Thursday, June 7th at 6:30pm, we hosted our final Live on Air in the Sure Champ booth at WPX. For the final edition, we had Chris Danner, Ind.; and Jesse Heimer, Mo.; Galen McCune, Okla.; and Ben Moyer, Ohio.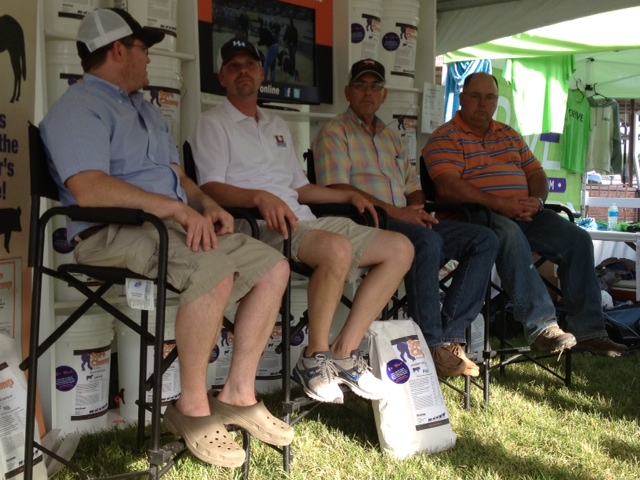 Trent Loos lead the discussion, and asked our panelists about the start of the National Jr. Swine Association (NJSA), the use of online and print marketing, as well as the mix of good genetics and good nutrition in the showring.
Highlights of the discussion:
Jesse Heimer, on the NJSA: " The NJSA is the biggest market that I have today to market purebred hogs."
Chris Danner, on which is more important nutrition or genetics: "You can lead a horse to water, but you can't make him drink. To win you have to work hard and be thirsty."
Galen McCune, on dealing with individuals who are anti-agriculture: "Don't be afraid to tell your story …This is an industry that is becoming more and more youth oriented, so let them know that your animals are treated humanely and at the end of the road, they are for consumption."
Ben Moyer, on how we get legends in the swine industry, "We need to be far reaching in some areas and consistent in others. In our herd we try to keep about 25% of hogs as sort of research and development projects when it comes to breeding."
As our summer travels continue, keep checking out our blog, as well as our Facebook, Twitter (@surechamp) & Instagram (surechamp) accounts!
Until next time,
Robin
P.S. – If you have any champion photos from this summer send them to champ@biozymeinc.com for them to be on our website and Facebook page!