Hello from Des Moines, Iowa!
This morning we had our first live forum – On the Air at World Pork Expo. Trent Loos acted as the host, and had a question and answer session with four industry professionals from across the country.
Today's forum included Jay Winter, Texas; James Bachmann, Cali.; Kade Hummel, Ill.; and Shane Brinning, Iowa. Mr. Loos guided the conversation, where the professionals discussed the trends in the show ring, marketing of hogs and their ties to the commercial pork industry.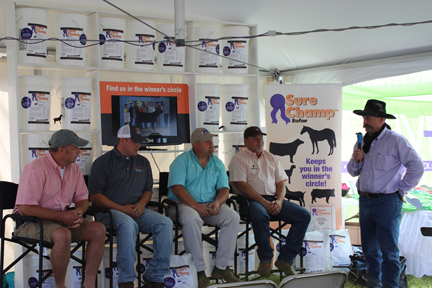 Some memorable quotes from earlier today:
James Bachmann (who is judging at WPX), on how we're choosing hogs for functionality: "They need style, balance and show appeal. We like width of skeleton and big ribbed hogs. We want to combine show appeal, muscle and cutability."

Shane Brinning, on classifying hogs in Texas: "I respect everyone's answers and opinions, but no way would I want a pedigreed show at the Texas majors."

Jay Winter, on online sales: "In the last 10 years, we've grown the most in terms of technology. We are now using online sales in addition to print advertisements. This opens up our program to a broader audience."

Kade Hummel, on his passion for the industry: "I've learned not every hog has to be perfect and not every breeding hog has to fit the ideal mold of a champion."

Tomorrow, we will have two more panel discussions, one at 10:30am CST and another at 6:30pmCST. You can either watch live from the Sure Champ booth or online at www.stockshowlive.com!

If you're on Twitter, be sure to follow @surechamp, @drivelivestock and the hashtags #wpx12, #stockshowlife and #liveonair.

Until next time,
Robin