Greetings Everyone!
My name is Robin Kleine, and I'm happy to be serving Sure Champ as their Public Relations and Communications intern this summer!
I hail from Lowell, Ind. – smack dab in the middle of the corn belt, where my younger brother Joe and I immersed ourselves in agriculture and activities. We showed cattle and tried a lot of different breeds, but we found a home with the Shorthorns. I proudly say I'm a lover of all things bovine, food and PURPLE!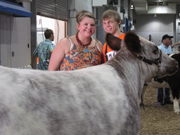 I am a K-State Wildcat who bleeds purple, and am a senior majoring in Ag Communications & Animal Science, with a minor in Leadership Studies. I'm involved in lots of things on campus including the Ag Communicators of Tomorrow and the KSU Dairy Judging Team. I love life in Manhattan, but I'm excited to be traveling with Sure Champ to 6 junior national shows this summer!
During my first few days in St. Joseph we've done lots of preparing and packing, and now we're on our way to World Pork Expo in Des Moines, Iowa. I can't wait to meet the hog showmen and their families during the next few days.
Soon you will meet my fellow interns Jamie Baumgardner and Kelsey Steketee.
Until next time,
Robin
P.S. – If you're interested in blogging don't forget to tune into DRIVE Ag Network's Webinar with Crystal Blin of Crystal Cattle tonight at 8pm CST.