For those of you on the junior national circuit this summer, you've seen Amie Stertzbach in the showring. A few times already. Amie and her husband, Bruce, judged showmanship at Chianina Junior Nationals, and Amie recently judged intermediate showmanship at the Simmental National Classic. Next week, Amie will be on the showmanship panel of judges at the National Junior Angus Show in Louisville, Ky.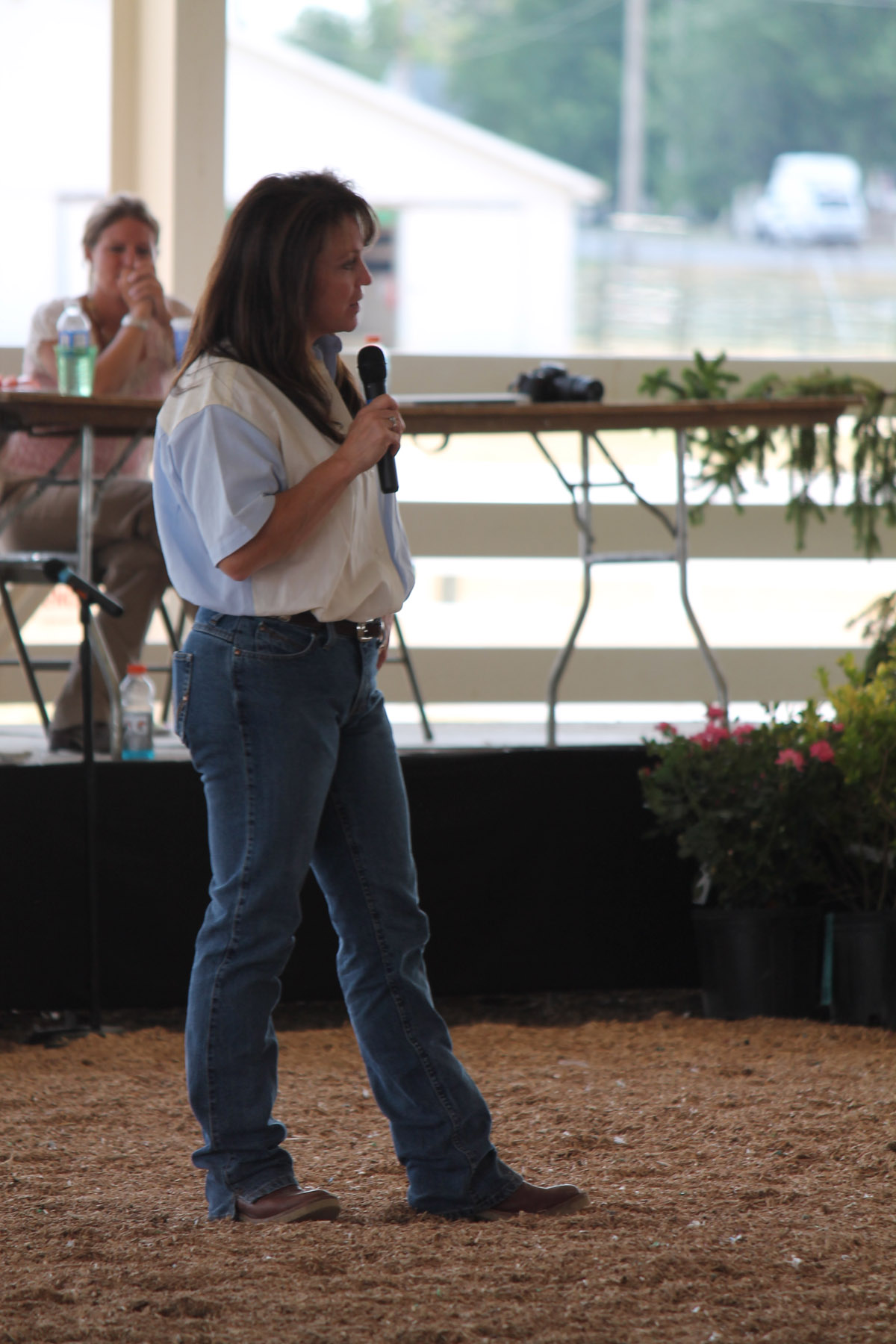 We took some time to visit with Amie about her family's operation and about her love of the show ring.
Amie grew up on a dairy farm in Rock City, IL, where she bought her first beef steer from a neighbor. Her love of 4-H and showing kept her in the business, as she worked for a Gelbvieh breeder after high school. She met her husband, Bruce, when they were both in Denver for the National Western Stock Show. They have two sons Dillon, 19, and Cade, 13. Stertzbach Cattle Co. is located in Louisville, OH, where they raise registered Angus cattle, mostly geared toward the showring and junior exhibitors. They have had many successes at the national and regional levels, including the Champion and Reserve females at the National Junior Angus Show in 2007.
What do you look for when you judge a showmanship contest?
A ring presence – the way an individual carries themselves. They must always be aware of spacing for themselves and their neighbors. They must also be courteous and willing to help a fellow showman. I'm also not a "bling" person, I think basic is best.
How did your boys get interested in showing?
They are around it everyday. They understand a lot of rights and wrongs – so they learn as we teach others. We tell them to work hard, strive to win, but have fun!
Will it be odd judging your "home" breed's showmanship contest?
I am a little nervous, but I am so looking forward to it! It's the only junior national that I haven't judged. I've watched these kids grow up, so I'm very fortunate and I'm very thankful for this opportunity.
What advice to you have for the pee wee showmen?
Find someone that you admire and watch them do things the right way. The more you practice and work at home it'll only be easier when you get to the ring. Make sure you ask questions and don't be afraid to make a mistake – that's how we all learn.
How do you deal with "know-it-all" parents?
I relate to it. Some people do taxes, while I work cattle. I tell the parents to trust me to teach your children the right way to work cattle, and I will trust my CPA to handle my taxes. We do everything we can to help our customers, and teaching is part of my job.
What tips do you have for those showmen coming to the National Junior Angus Show?
Do what you've always done – whatever it is that got you to that point. Don't go changing your "style" because one judge wants a certain thing. Have confidence in yourself and your abilities.
Until next time,
The Interns