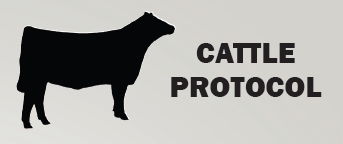 Vita Charge is a prebiotic product that contains Amaferm® along with essential vitamins, trace minerals, and macro minerals to support microbial health. It is an ideal product to be used anytime the animal's digestive system is challenged or there is a desire to stimulate intake. This could be during feed or water changes, weaning, bloat, or when animals are being transported to a show. There are numerous ways to use Vita Charge. Area Sales Managers, John Tucker and Alan Lee, and Product Manager, Crystal Blin, helped develop the Vita Charge Protocol for Cattle, guidelines on how to use Vita Charge depending on what kind of cattle you are working with and what kind of investment you are wanting to make.
Sale and Show Cattle
Level 1
The Vita Charge® Stress Tub provides a convenient way to administer Vita Charge and Bio MOS. These two products together help stimulate appetite and improve health. The Stress Tub is ideal to use during weaning, halter breaking or at times when cattle aren't being brought into the barn daily.
Level 2
Administer 15 mL of Vita Charge Gel or 30 mL of Vita Charge drench for three consecutive days prior to departure to show or sale. As soon as the cattle get off the trailer, administer an additional dose of gel or drench. Continue to administer Vita Charge daily while at the show. If your cattle are not drinking, add Vita Charge Liquid Drench to your water bucket to stimulate intake.
Level 3
On a weekly basis, give 15 mL of Vita Charge Gel twice a week, and 30 mL of drench once a week. The week prior to the show give 15 mL of the gel daily, and 30 mL of the drench every third day. Continue to administer Vita Charge daily while at the show, and use Vita Charge Liquid Boost in water buckets to keep cattle drinking.
 Receiving Period & Herd Health Protocols
Provide one Vita Charge Stress Tub for 5-15 head of cattle. Consumption should be 1/4 lb. to 1/2 lb. a day. If possible, administer Vita Charge to cattle before hauling to ensure appetite will stay consistent upon arrival. Anytime cattle are run through a chute, whether it is for vaccination, treating illness, bloat or stressful situations, consider giving Vita Charge via gel or drench.
Note: Remember that all Vita Charge products are designed to work with Sure Champ pellets and VitaFerm mineral. Using these products in conjunction will help create maximum results.
For a printable verision click here.
If you have nutrition questions email champ@biozymeinc.com.
To read the Vita Charge Pig Protocol click here.