By, Alise Nolan, The Ranch Kitchen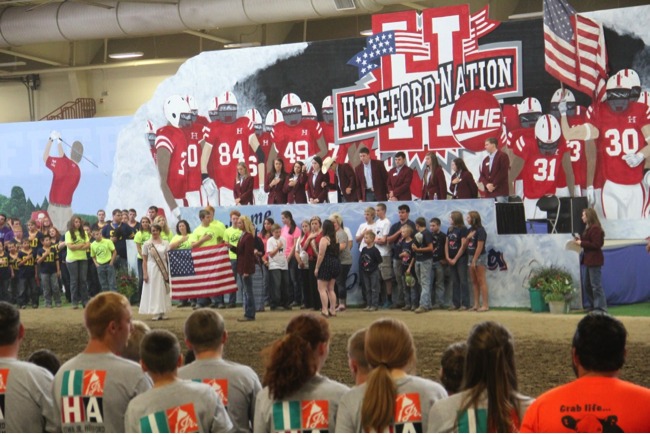 Our 2015 Jr. Nationals have come and gone, but oh the great memories our family and friends made! As we drove home over the July 4th weekend and looked out across the beautiful farmland of America's heartland, I am reminded again how very fortunate we are to live in the United States of America. This past week wouldn't have been possible without the work of so many people and foremost our military that continue to fight for our freedom in the past and present.
Each year Sure Champ® and VitaFerm® sponsors numerous junior nationals across the USA. Their generous sponsorship promotes each breed's juniors, like our National Jr. Hereford Association, and we can't thank them enough.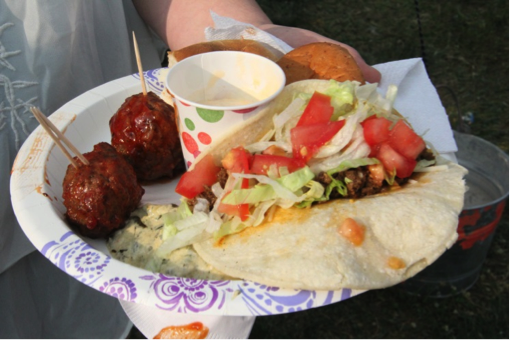 One of the favorite events this year at our JNHE was the Hereford Tailgate. Over 20 states participated in this first ever event that will surely become a tradition. From our Texas Street Tacos, Maryland's Crab Cakes, to Oregon's Smoked Salmon, families were well fed and enjoyed a little friendly competition with their regional recipes and design of their spirited tailgate booths.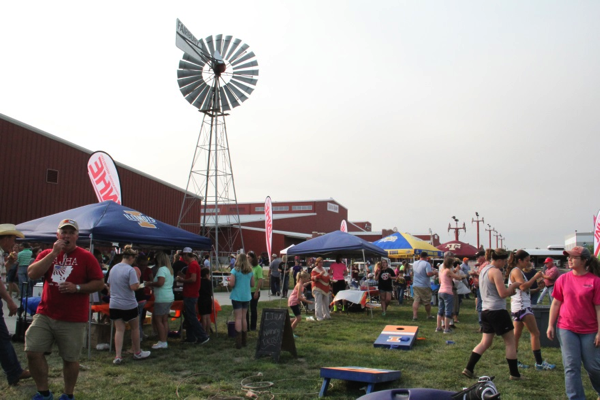 Our Texas group brought beef all the way from Texas A&M's Rosenthal Meat Science Center, slushies from Braman Ranch's trailer, homemade salsa from the Keaheys's and our chips, all the way from East Texas, in a large trash bag in the floor of my RV shower. They were devoured in no time and were a huge hit! You improvise when you travel with a barrel full of tortilla chips!
The next day Hereford Youth competed in our annual Certified Hereford Beef Grill Off Competition sponsored by the National Hereford Women. Each year states bring their best Certified Hereford Beef recipes to serve the judges. It was tough competition all around and every state representative team served up some creative dishes with fun monologue and costumes.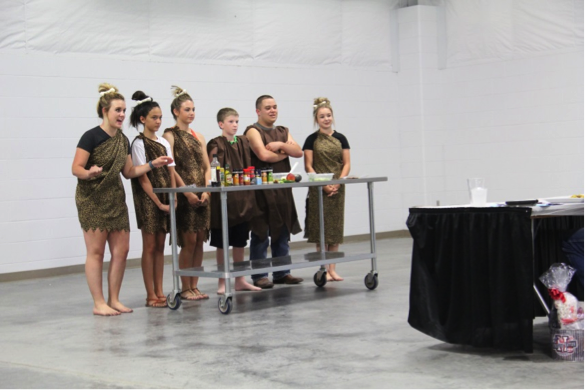 I'm proud to say that this year Texas won with our Paleo inspired Tri Tip Tacos Paleo Style of Grilled Tri Tip with Grilled Peach & Avocado Salsa. You'll see our Texas juniors pictured here in their caveman and woman costumes touting the benefits of their Paleo diet where everything (well almost….) comes from what you can hunt or gather! I bet you didn't know Herefords were around a million or so years ago?!!
The recipe was a creation of our own Koby Rogers who is a sophomore at Oklahoma State University attending their Institute of Technology pursing a Culinary Arts Degree. Team members were from left to right, Savannah West, my daughter Audrey Nolan, Jenna Day, Mason Allan, Koby Rogers and Rylee Barber all of Texas.
Certified Hereford Beef Contest
FIRST PLACE TEAM
Grilled CHB Tri Tip with
Grilled Peach & Avocado Salsa
Ingredients:
2 – 4 lbs. Certified Hereford Beef Tri Tip Roast
For marinade:
1 cup pineapple juice
¼ cup Worcestershire Sauce
1 tsp. garlic powder
1 tsp. onion powder
2 tbs. salt
1 tbs. black pepper
½ tbs. cayenne pepper
1 tsp. crushed red peppers
1 tsp. cumin
1 tbs. Olive oil
For salsa:
2 grilled peaches
1 grilled avocado
1 green onion, chopped fine 1 tsp. Garlic powder
1 Serrano pepper, chopped fine (pith & seeds removed)
1 tbs. pineapple juice
1 tsp salt
Directions for marinade:
Mix 1 cup pineapple juice, ¼ cup Worcestershire sauce, 1 tsp. garlic powder, 1 tsp. onion powder, 2 tbs. salt, 1 tbs. black pepper, ½ tbs. cayenne pepper, 1 tsp. crushed red peppers, 1 tsp. cumin, 1 tbs. Olive oil to marinade ingredients in a gallon sized Ziploc bag.
Add CHB Tri Tip roast to marinade.
Marinate beef for 1 – 2 hours in refrigerator turning occasionally.
For Grill:  
While CHB Tri Tip is marinating, cut peaches and avocados in half removing pits.
Grill peaches and avocados on low heat on the grill for about 5 minutes on each side.
Remove peaches and avocados from grill when you have char marks on the fruit.
Dice peaches and avocado in to 1 inch chunks.
Add chopped green onion and chopped Serrano that has been seeded white pith removed and seeds) to diced peaches and avocados.
Add pineapple juice and salt to diced fruit and peppers, stir gently and set aside.
Remove CHB Tri Tip from marinade and place on hot grill.
Grill Tri Tip to medium doneness (135 degrees) turning once after the first 5 – 8 minutes on each side.
Remove Trip Tip from grill.
Allow Tri Tip to sit for 5-10 minutes on a platter to allow juices to remain in meat and then slice thin in to 1 by 6 inch strips.
Top Tri Tip with Grilled Peach and Avocado Salsa and serve.
***We hope you'll click on the link above for this recipe or find it on the National Hereford Women's new collaboration with Certified Hereford Beef at this link NHW/CHB Recipes. It's our greatest hope to catalog those family recipes that link our past to our future!
We hope you enjoy your summer ahead and those time in the barns with your family and friends. July means August is right around the corner and state fairs across the country will be in full swing. Good luck, safe travels and may your summer go ever so slowly! If you serve any great recipes this summer or while at shows, please share them with us. We'd love to hear about them and share them here on the Sure Champ blog!