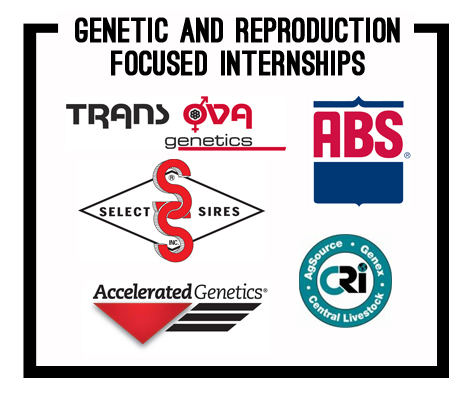 Reproduction service internships look to offer much more than the usual office experience, and more of a hands on experience. Internships are a great way to enhance your resume, but if you are looking for an internship that allows you to step away from the computer and office and into the laboratories and on research farms check these reproductive and genetic focused internship.
Accelerated Genetics: Accelerated Genetics internships provide valuable real-life experience through a variety of opportunities working hands-on within the A.I. industry. These experiences will help individuals prepare for a future career. Each internship experience will take place during the summer. Accelerated Genetics offers college students internships in the areas of: Farm & Barn, Laboratory, Genetic Services, Marketing Communications, and Sales & Service. Deadline to apply is November 15. Click here for more information and to apply.
Trans Ova Genetics: As a part of the Trans Ova team, you will be assisting veterinarians in performing procedures such as embryo transfer (ET) and in vitro fertilization (IVF). Responsibilities also include assistance in flushing, freezing and thawing of embryos, organizing and preparing recipient and donor cows for ET and IVF procedures, completing necessary paper work and data entry, and maintaining the sanitation and organization of supplies in the working areas. Deadline to apply is October 15. Click here for more information.
Select Sires: Select Sires is committed to providing students with internships that will not only give them a summer job, but will also help them develop a portfolio and resume as they enter the working world. Successful candidates will be those who are majoring in animal science, dairy science, agricultural economics, agricultural communications or a related field. Deadline to apply is January 1, 2015. Click here for more information.
ABS Global: ABS Global is a growing organization with a global focus. They offer a challenging work environment, competitive compensation and an excellent benefits package. They have a long list of internships available throughout the U.S. as well as Canada. These internships range from advertising, livestock handling and management. progeny promotion and much more. For more information on deadlines and applications click here.
Genex: Each year Genex selects three young people to serve as interns for their different locations. Positions range from semen collection to marketing. There are currently no set deadlines or applications available, but you are encouraged to continue to check the genes website to visit www.crinet.com/careers to learn more.
Be sure to visit each of these companies websites for more information. To check out other agricultural internships click here and continue to check the Sure Champ blog as we post others. Sure Champ's internship opportunities will be announced in December.