Hello Music Lovers!
You may have been hearing the name Scott Shelby lately. Who is this up-and-coming country music artist?  Scott grew up in Bells, Texas where he was involved in 4-H and FFA. He showed cattle and sheep, as well as participated in livestock judging and parliamentary procedure contests. We sat down with Scott in our Sure Champ booth and asked him a few questions about how he got started and what is in store next.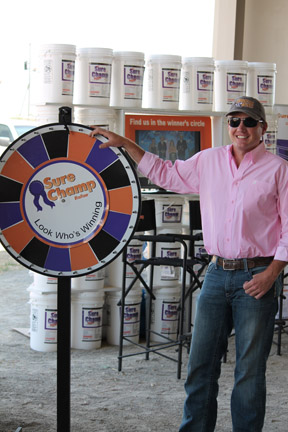 How did you get started in music?
My mom played piano at church, so I learned to play that first. I then traded a '67 Mustang that didn't run for my first guitar. I'm a much better guitar player than a mechanic.
What's been your favorite venue to play?
Coe's Bar in Bernard, Iowa – everyone knews all my songs!
Matt Lautner has been helping you out a bunch. How did you meet?
My girlfriend, Ashley Judge, works for Steph Steck from Nebraska, and she (Steph) got the two of us together.
What do you think of the Chi/Maine Jr. Nationals so far?
It's a pretty neat event. The numbers are small, but it's good to see the kids so involved.
What should your fans know about you?
I'm getting ready to go back to Nashville to record my sophomore album. 
Scott first title "Young & Invincible" is quickly becoming a summer favorite, and is available for download through iTunes.
Scott will performing at the American Chianina Association Foundation Kick-Off, in Lima, OH. You can see his full summer schedule by visiting his website www.scottshelby.com and don't forget to follow him on Twitter @Scott_Shelby2.
Cheers!
The Interns
P.S. – We've uploaded tons of photos to our Facebook page from this week in Lima, OH … Head over there and make sure you tag yourself and your friends!