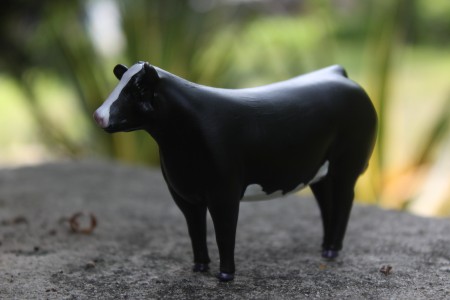 Those that show cattle have to admit we have an intense interest and love for anything that embraces the stock show life. That is exactly how I felt the first time I saw Sarah Wray's show steer toys. Sarah grew up in the purebred cattle industry and a large majority of her youth was spent participating within the stock show circuits and 4-H. Now, as a mom, her own children, nieces and nephews have become interested in showing. Like many stock show kids their interest reaches far beyond the showring or barn. Stock show kids are known to try and incorporate the stock show life into every aspect of their lives because of their passion for the industry. That usually includes turning mom's living room carpet into pastures for pretend show heifers.
Sarah's children are much the same way and she grew increasing frustrated with the selection of cattle toys. Sarah says, "I saw friends of my children who were interested in horses and dressage have amazing toys readily available, which met the standards of their passion. And I couldn't find a single cow that fit the bill.  That's how The Stock Show Toy Co. was born.  They say invention is the product of necessity, and in this case, it couldn't be more true!"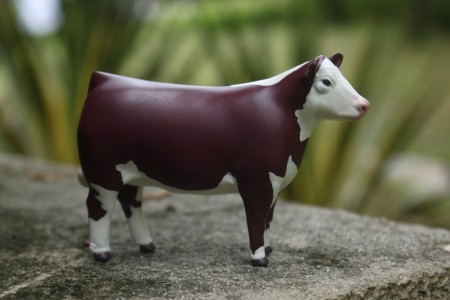 The Stock Show Toy Co. offers five breeds of show steers, and will be launching three additional breeds before Christmas. The next three breeds to launch will be decided by the fans on the Stock Show Toy Co. Facebook page. "We're taking quite an organic approach to the making of our toys, expanding into heifers, more species and show equipment, but we will look to our fans to see what they are most in search of. That will help us decide the order in which we produce items," said Sarah.
Toys can be purchased online by visiting www.stockshowtoys.com. You'll also want to follow their Facebook page to voice your opinion on what breeds and species should be created next.
Now here's to the exciting part. The Stock Show Toy Co. is giving away a full herd of steers (5) to one lucky Sure Champ lover!
How to Enter:
1. Pin one of the steer pictures in this post to Pinterest and use the hashtag #stockshowtoy
2. Tweet the link to this blog post, tag @stockshowtoys and use the hashtag #stockshowtoy
3. The deadline for entry is August 22, 2014.