The Core Family have always been admired for their quality of cattle, work ethic and skill in the showring. I had a chance to sit down with Deb Core to discuss a little bit about their family's time spent on the show road and what she'll be looking for as she takes on the difficult task of judging showmanship at the National Junior Hereford Expo.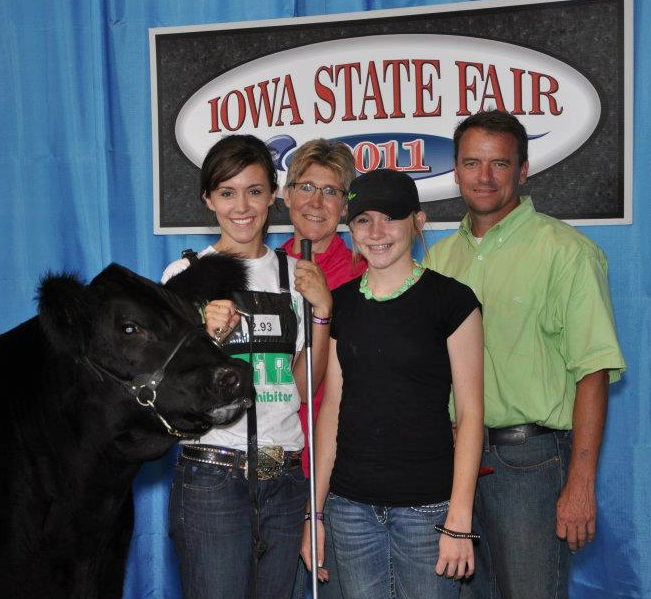 Deb and Mark, and their two daughters, Bailey and Kennedy, live in Pleasantville, Iowa, where they run a small cow herd of Maine and Chianina influence cattle. Over the years they have also incorporated some Simmental, Angus and Hereford genetics. Deb, originally from South Dakota, got her start in the cattle business showing steers in South Dakota, and Northwest Iowa. College took her to South Dakota State University where she was a member of the livestock judging team. From there she headed west to Colorado State University to purse a masters and assist with their livestock judging team. Today, her family can be seen at most major shows, whether it is a junior national or showing on the green shavings at Louisville, bringing home hard earned banners.
It's always fun to watch Bailey and Kennedy out in the showring. The ease and confidence they present in the showring seems to come natural, however you could say good genetics, years of watching their older successful cousins and lots of coaching from mom and dad have turned these two young ladies into fine showman. Deb explained that becoming a master showman comes in two phases. "Younger showman need to focus on the basics," she says. "Mastering the showstick, hand position on the halter and being able to switch hands are what they need to focus on." Deb encourages young people to spend lots of time working with their animals so they can walk them into that set up position. "The more young people can do to walk their animal into it, the less they have to worry about maneuvering the showstick." She also stressed that young showman need to remember that their heifers are a lot bigger than they are. Although, a young exhibitor can turn in a small circle their heifer can't. Big, wide circles must be made.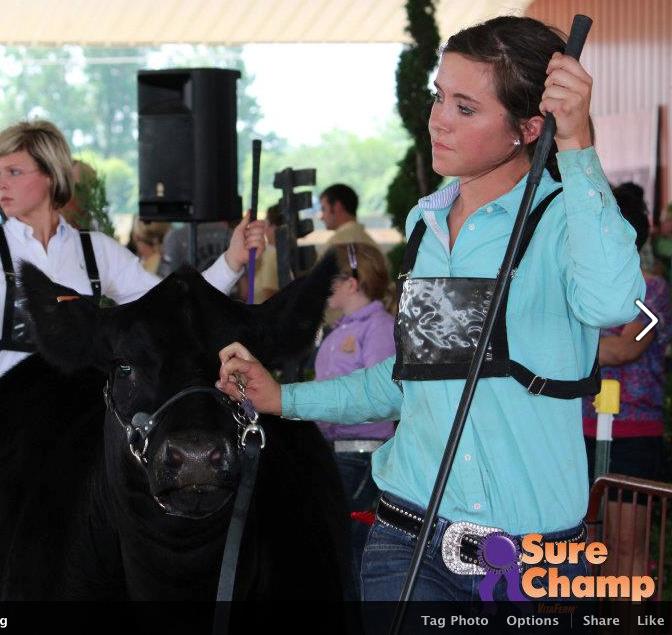 For those that are more experienced its about the little things, how fast to walk, your own stance when you are stopped, and making sure you are presenting you animal in the most effective manner without disturbing the rest of the showring. "Showmanship is not about being mechanical, it is about how and why you are doing things," she says. The pace that you and your animal are moving at is important. "I don't like when showman are pulling or dragging that animal around the ring." She's also not big a stickler about whether you have to go through the same hole when switching positions, always have to turn to the right among other common "showmanship rules." Instead, Deb wants that animal to looks its best and you to look like you know what you are doing.
"I'll be looking for the kids that want it, and that is something you can't teach," she says. "You can always tell who really wants it. I know after the first circle around the ring whether you have a shot or not."
Other advice Deb gives is that girls need to watch the bling."The boys kind of have it easier, but I don't like a lot of bling," she says. "Watch those belts, earrings and necklaces. I also like girls to have their hair out of their face."
You can tell Deb and her family are highly competitive people, and she admits that when they show up they come to win. However, watching their girls grow into young leaders, that are passionate about agriculture has been one of the biggest rewards, and other parents need to remember how important the benefits outside the showring are. "If you don't win showmanship, don't take it personally, because judging showmanship is one of the most personal decisions a judge will make," she says. "That is something that showman and parents need to remember."
The National Junior Hereford Expo Showmanship contest will take place on Thursday, July 5. It's one of the unique events of the week as the senior showman will move through rounds of semi-finals until 10 are selected for the finals. Those 10 showman will then receive 45 minutes to fit their animals before they go back into the finals. Say tuned for the results, and more interviews with the judges from Simmental and Angus Junior Nationals.