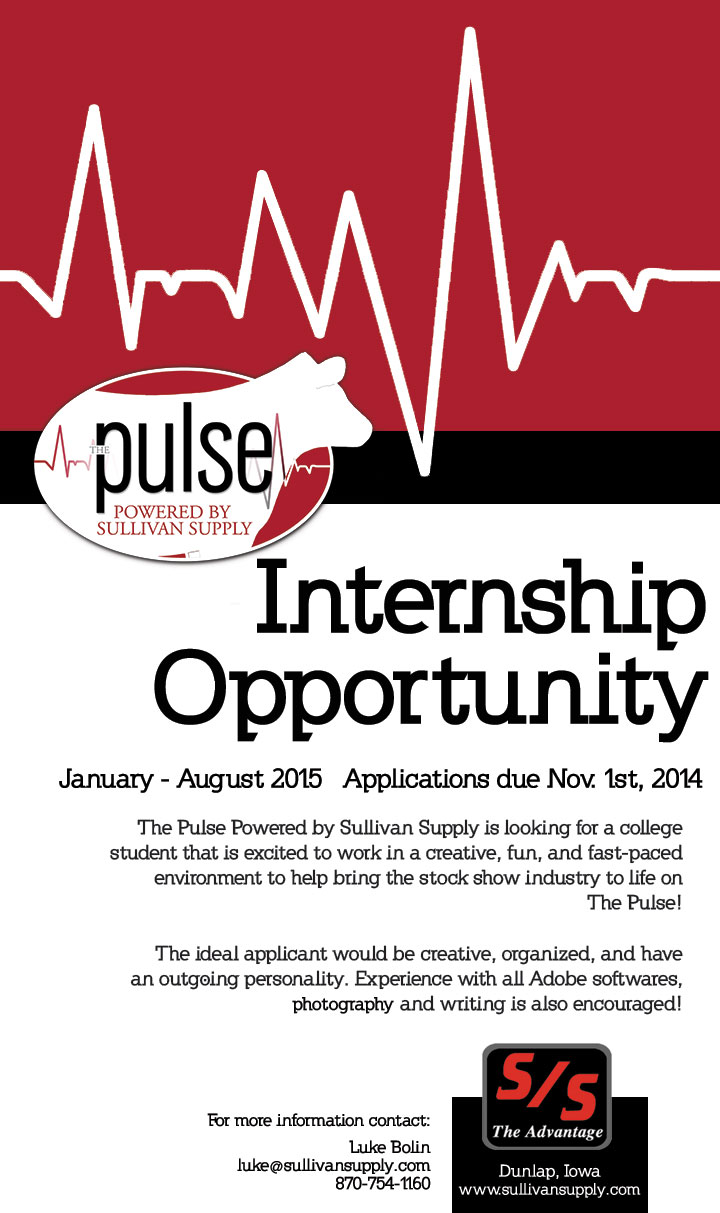 Internships provide valuable real world experience to compliment the fundamentals learned in the classroom. Here is an exciting opportunity to work with the Sullivan Supply Team.Sullivan Supply – 
The Pulse – Extended Internship Program
The internship program will offer a college student the opportunity to travel across the country while assisting in providing the stock show industry with industry news and live event coverage.
Eligibility:
This internship program is open for anyone to apply.
Applicant should be an upper level college student.
They should be skilled with Adobe programs, have basic photography skills and enjoy writing.
The applicant should be detail oriented, outgoing, and have the ability to work well with all types of people and under pressure.
They should also be creative and have the ability to work on their own.
The Internship
The internship will start in Early-January to prepare for the National Western Stock Show and run through Late August. With some variation on the ending date depending upon the availability of the person hired for the internship. The internship is based out of Dunlap, Iowa and would require relocation of the selected applicant for the duration of the internship.
The intern would be expected to assist with the daily in-office preparation for The Pulse, along with traveling to events across the country to assist with the coverage of livestock shows for The Pulse. This internship is set in a very fast-paced environment with a great opportunity to travel across the country and work with people in the show cattle industry.
Internship Compensation:
Base Salary – less appropriate taxes. All travel expenses covered.
How to Apply:
Anyone interested in this exciting opportunity offered by Sullivan Supply should send their cover letter, resume, and references to:
Sullivan Supply Inc. 
701 Iowa Ave.
Dunlap, Iowa 51529!
Attn: Luke Bolin!
You may also forward you cover letter, resume, and references to: luke@sullivansupply.com
The application deadline is November 1st, 2014.
For more information contact: Luke Bolin, Manager, The Pulse at 870-754-1160
Click here to check out addition agriculture internship opportunities.