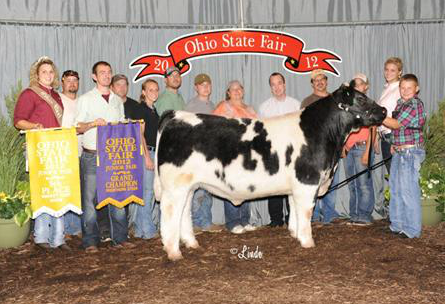 Recently, we had a Sure Champ customer ask about the supplement Tasco, specifically how much Tasco was in Sure Champ. As we enter the warm months they will be trying to keep as much hair on their show steers as possible and recognize that diet can have an effect on hair.
Sure Champ contains a microbial called Amaferm, which increases the number of beneficial bacteria and fungi in the rumen. Research also shows that Amaferm increases fiber digestion, microbial protein, lactate utilization and energy (VFA), and DECREASES heat stress. Think of your animal as an engine. The more efficient the engine is the less heat it puts out. The same goes for the digestive system. Because Amaferm is creating a more efficient digestive system we keep that animal's body temperature lower.
Since Amaferm is already working to lower body temperature there is no Tasco product included in Sure Champ. Sure Champ's combination of being able to keep body temperature lower with chelated minerals and strong vitamin pack will ensure your livestock maintain bloom and freshness all summer long.
If you have a ration or nutritional question email champ@biozymeinc.com.
To read some of our research on heat stress in dairy herds click here.