Recently, Cathy Rains, TX, dropped us a line about her success with the BioZyme line of products. You can tell from her enthusiasm that this family is hooked. And with the results she is seeing there is certainly no question why.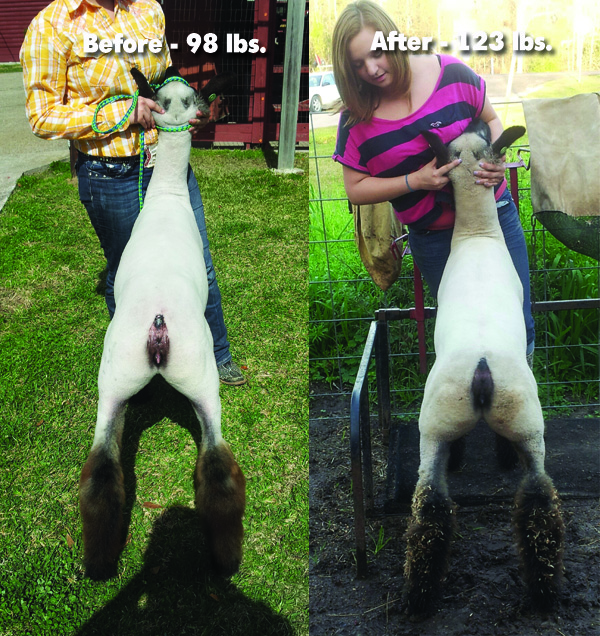 "We are huge fans of Amaferm Digest More pellets and start feeding it to the new lambs as soon as they are brought in. The Texas heat is brutal in the summer and the Amaferm really helps lambs make the most of their feed during this crucial feeding period. Digest More allows us to maximize each lamb's genetic potential without risking them going off feed during extreme weather.
Later in the feeding period we start the lambs on Sure Champ. This gives them all the benefits of Amaferm with added vitamins and minerals essential to muscle synthesis, healthy skin and hooves. Anytime we haul a lamb to a show, big or small, we run the risk of an animal going off feed due to stress. We always carry a tube of Vita Charge with us for this reason. Vita Charge really helps turn a stressed lamb around and helps them get back on feed.
Through the years I have tried a ton of products that have claimed to aid in digestion and animal health, many of which are overpriced and have little, if any, noticeable effect on our show stock. Every BioZyme product I have ever tried has been reasonably priced and has exceeded my expectations. Your company's products are the first products I feel I can count on to do what they say they will without all the extra foo-foo dust and ingredients. I will never feed another lamb without the Amaferm advantage."
To request information on any of these product or to speak with one of our nutritionist on how to incorporate BioZyme products into your feeding program contact us here.