We are excited to bring you our Second Annual Stock Show Christmas Wish List. If you are needing the perfect idea for your stock show loving family member, we've got it! Any of these ideas are sure to please. Be sure to also check out our lists from last year.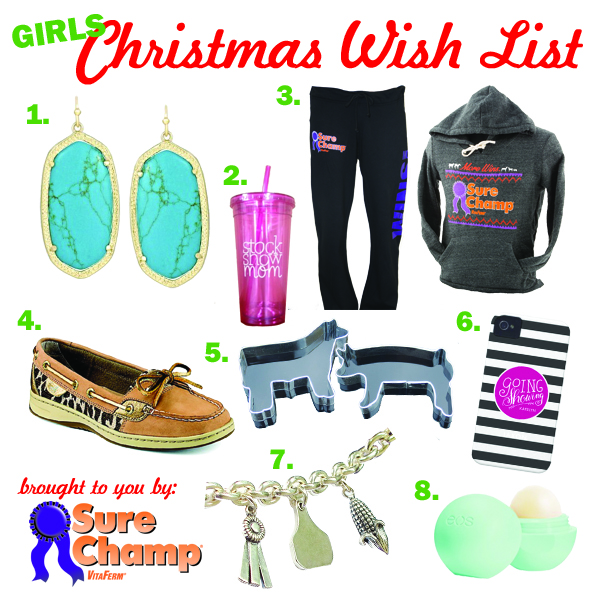 From accessories to wear in and out of the showring, and great ideas for your stocking, every girl would love to receive something off of our Stock Show Christmas Wish List.
1. Kendra Scott Elle Earrings (Kendra Scott) – $52 – These earrings come in about ever color imaginable. Find a pair to match your school colors, or stick with classic turquoise.
2. Stock Show Mom Tumbler (Stock Show Sweetheart) – $13
3. Sure Champ Sweatpants and Hoodie (Sure Champ) –  $38/$48
4. Sperry Top Sider Boat Shoes (Sperry Top Sider) – $88
5. Show Steer and Pig Cookie Cutters (The Branded Barn) – $3.25
6. Going Showing iPhone Case (Stock Show Boutique) – $33 – You'll find tons of cute ideas from this new online boutique
7. Charm Bracelet (Cow Art & More) – bracelet $88, charms $28-$64
8. EOS Lip Balm (EOS) – $3.29 This a personal favorite of our Marketing Director's, Crystal Blin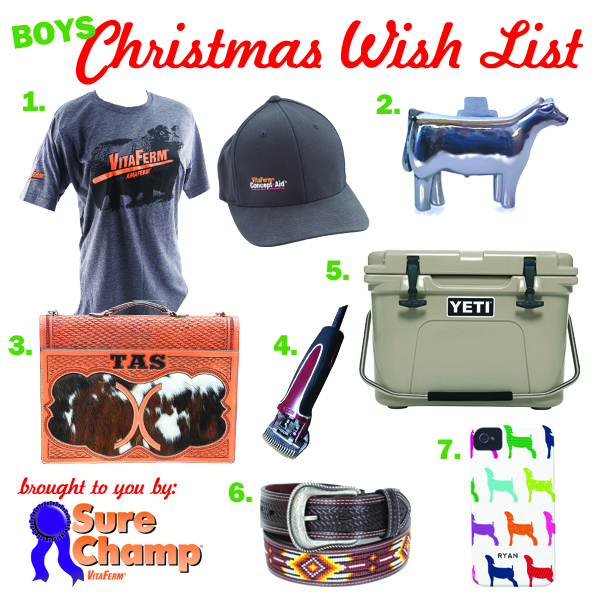 Show your love of the stock show life both in and out of the ring. And don't forget the boys in your family love to have their gift customized with their brand, logo or name.
1. VitaFerm Vintage Angus Shirt and Concept-Aid Flat Bill Hat (Sure Champ) – Shirt – $25 (Hereford version also available)/Hat – $16
2. Show Steer Hitch Cover (Starck Sculpture) – call for pricing
3. Leather Briefcase (Classic Leather Designs) – call for pricing – Classic Leather Designs isn't just known for their briefcases. Check our their camera straps, chairs, picture frames and more. 
4. Custom Painted Clippers (Sullivan Supply & SLICK Customs) – clippers – $215, call for quote on custom painting
5. Yeti Roadie Cooler (Yeti) – $249.99 – These coolers are definitely an investment, but a Yeti cooler will last a lifetime
6. Beaded Leather Belt (Fort Western Wear) – $64.98
7. Personalize Phone Case (Stock Show Boutique) – $33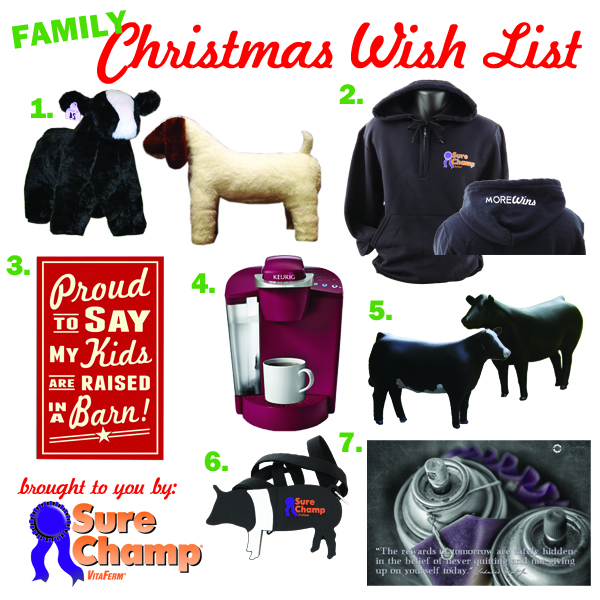 These gifts are perfect for the family to share or maybe you are looking for something to give your customers or hired hand.
1. Stuffer Show Animas (Maine Aim Ranch) – $130 – These stuffed cows were a hit last year, and now Maine Aim Ranch is offering goats and pigs. 
2. Sure Champ Unisex Hoodie (Sure Champ) – $45 – Place your orders for Sure Champ merchandise by Dec. 17 to ensure Christmas delivery. 
3. Stock Show Poster (Zietlows Custom Signs) – $22
4. Keurig Brewing System (Kuerig) – $119 – Get your crew going in the morning with their favorite cup of coffee, tea or hot chocolate.
5. Show Steer Toys (The Stock Show Toy Co.) – $11.50 – We know a lot of big and little kids that would love these cow toys. 
6. Pig USB/Flash Drive (Sure Champ) – $15 – Also, available in two steer colors. 
7. Fitting Poster (Livestock Legacy Imaging) – $10
We hope your family has a blessed holiday season! And don't forget about your livestock friends in the barn.