Wow! Where has the summer gone?!
The shows are just getting started in Grand Island, NE for the Junior National Hereford Expo – and one of our interns, Robin, is on her way to Lima, OH to kick off the National Junior Simmental Classic.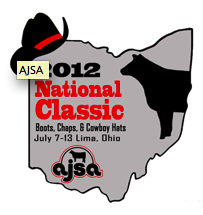 As per usual on Friday, we'd like to share our Top 5 Tweets of the Week. Thank you for the little bits of insight Tweeps!

Stockshow Confidential: @WatchStockshow "Punk'd in the Barns: See who fell for last week's trick! http://stockshowconfidentialblog.com/?p=164 @mattlautner@SureChamp #goinshowin #bereadytolaugh #havefun" So what does a cow drink? Clever trick, friends!
Rachel Cutrer, TX: @RachelCutrer "Sometimes courage is needed. Not manners, not breeding and money, but the bravery to do what is required of you when the going gets tough." Rachel also wrote a thought-provoking blog this week about showmanship, read it here.
Colby Cummings, AR: @nolimitcattleco "It's in my blood and it's in my bones in my heart and my soul and when I'm gone I hope you understand. #stockshowlife #bannerchasing" This is how we feel about showing too! Thanks for sharing Colby!
Elizabeth Oliver, MI: @msuaggirl "Heifer calf born today, mom claimed right to name her: Miss Liberty, Libby for short. Always a family feud ovr naming babies.‪#stockshowlife‬" Libby is a precious name! Hope she's red, white & blue!
And we couldn't help but brag –
Sure Champ: @surechamp "All Top Five Shorthorn Heifers are Sure Champ customers! Now that is a good day. #stockshowlife #welcometothewinnerscircle" Congrats to our customers Nick Sullivan, IA; Samantha Schrag, SD; Jacob Darbyshire, IA; John Reasor, GA; and Jacob Nikkel, KS!
Good luck to everyone showing over the weekend! We can't wait to read your tweets and remember to send your champion photos to champ@biozymeinc.com!
Best,
The Interns
P.S. – In case you missed it, be sure to watch the video of the grand drive during the Shorthorn owned show last saturday here.