Hello Everyone,
We'd like to introduce you to some of our top Sure Champ dealers. These businesses and individuals have done a great job of selling Sure Champ, and getting into the right people's hands!
Meet Jackson Umbarger, Co-Owner and Secretary/Treasurer of Roy Umbarger and Sons. Jackson is the 4th generation owner of Umbarger Show Feeds, and grew up showing pigs and working either at the family farm or the feed mill.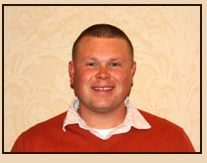 Brief history of Umbarger Show Feeds.
Umbarger Show Feeds is a 4th generation feed company that was founded in 1939.  Our focus in entirely on show feeds and we market the majority of our feeds through our dealer network.  Our network is made up of 109 dealers located in 15 different states, mainly throughout the Midwest. We also operate a seed dealership for Dekalb and Asgrow seed, a chemical and fertilizer business, and a grain storage operation.
What sparked the interest in the show industry?
In 1990 our owner, Marty Umbarger, invested in a steam flaker and our interest in the show feed industry started shortly thereafter.
How is your product different from your competitors?
Quality and consistency are what we believe separates Umbarger Show Feeds from the competition.  We also flake 100% of the grain that goes into every bag of show feed we produce.
How many Umbarger dealers do you currently have? In what states?
109 dealers and growing located in IN, OH, KY, MI, MN, IA, IL, MO, NC, PA, MS, AR, CA, WI, AZ and TN.
Why do you think that Umbarger and Sure Champ work together so well?
Umbarger Show Feeds and Sure Champ work well together because both are high quality products that focus on letting animals achieve their maximum genetic potential.
In your opinion, what do customers gain from feeding Sure Champ with their Umbarger Show Feeds?
Umbarger Show Feeds are already fortified with the Amaferm Advantage, but we believe our customers do benefit from feeding Sure Champ during those high stress situations that occur during show season.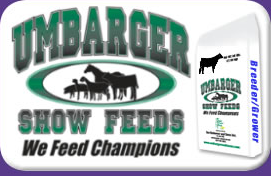 Thanks to Umbarger Show Feeds for being such successful Sure Champ dealers!
Until next time,
Robin