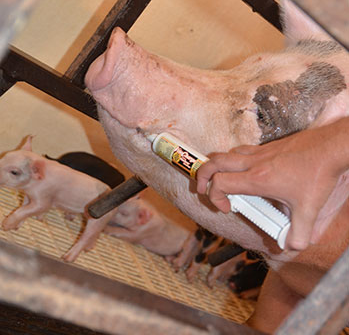 Vita Charge is more than just a showring supplement. Its vitamins and minerals, along with stress levels of Amaferm, to support microbial growth, can help increase appetite and improve health in a variety of settings. When Vita Charge is used in the farrowing house we see it increasing sows' consumption in the crate, their appetite returns faster after farrowing and Vita Charge supports increased milk production and weaning weights.
Vita Charge Protocol for the Farrowing House
1. Can be given as a top dress or orally
2. Administer 20 mL Vita Charge Gel as soon as you put your sow in the crate, and then continue using daily until after she has farrowed.
3. Continue administering 20 ml/day after farrowing until she is steadily consuming 12-14 lbs. of feed a day.
4. Remember that Vita Charge is a natural, prebiotic that won't interfere with antibiotics.
Here is what people are saying about Vita Charge.
"Vita Charge is the best and quickest appetite enhancing product I have used. You start to see a response within hours of giving it whether to show pigs or sows in the farrowing crate. Vita Charge is a great affordable product." – Brett Byers
"We put our best gilt in the crate six days ago and she instantly went off feed. We tried every trick in the book to no avail. Over the past 24 hours we gave her half a tube of Vita Charge and now she is eating like she never missed a beat. It will be part of our standard regimen in the farrowing house from now on," – Bronc Fleming, TX
To find a dealer near you click here.
To speak with one of our nutritionist about your farrowing rations please fill out our contact us form.