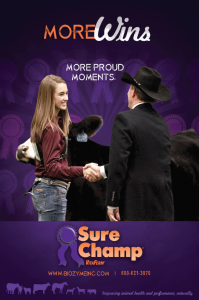 Recently, we've had a lot of people asking when they should start using Sure Champ. The answer is quite simple – as soon as your livestock go onto feed or as soon as you get them home after purchase. Transitioning animals onto a grain diet or the arrival of livestock to their new home can be stressful. Amaferm, found in Sure Champ and Vita Charge, helps improve digestive health and stimulates appetite especially in stressful situations. By including Sure Champ in your ration from the beginning you can make sure your livestock are on the right path of increased appetite, more bloom and freshness and improved digestive health. As with any supplement you will need to slowly introduce Sure Champ into the diet and work up to the recommended .25-.5 lb. or 1 lb. a day feeding, depending on the species.
We even have people that use Sure Champ in their Creep Feed.
A follow up question is how long should I use Sure Champ? Since Sure Champ is a natural product, it should be used throughout the entire feeding period. As with most supplements it is important to feed for a minimum of 30 days to see full results. For those that are showing sheep, goats or heifers you may consider transitioning your females onto one of our VitaFerm minerals, after your show season is complete, to ensure you maximize reproductive performance of your livestock.
If you have nutrition questions please email champ@biozymeinc.com. To find a Sure Champ dealer near you click here.