The last of summer and fall in most of the U.S. means county and state fair time.  It's the culmination of our youth and families work that started in the barn. These shows are a time to showcase the projects that have taught our children so much about what it takes to be a winner even if the ribbon doesn't end up showing it. 
For parents it's also a time to feed the hungry crowds that always seem to gather right around feeding time for both animals and humans!  Each year I pack my big black food box with wheels, that my husband surprised me with, for housing all my cooking tools, crock pots, roasters, spices and foods that I need in order to feed our hungry family and friends. We have found that it's easier to feed everyone at the barn so that when you finally get to leave you don't spend a ton of time and money at restaurants when you could be getting rest and ultimately valuable sleep for the busy next show day!
Recipes we cook must feed a crowd and be simple enough to cook on 'low' as it heats in our roasters to feed everyone as they are ready to eat after either showing or feeding their animals. 
Today in anticipation of this special time of the year, I have shared a new recipe and few tried and true ones that can easily be prepared for your groups and enjoyed anytime of the year in or out of the show barn! 
Good luck at your state and county fairs!  What a fun time you have ahead, and if you are looking for more great recipes be sure to check out The Ranch Kitchen blog.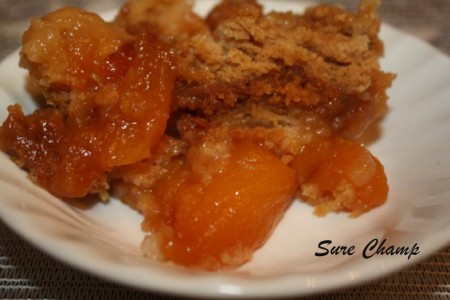 Sure Champion Crockpot Peach Cobbler
2 cans peach pie filling
1 stick butter or margarine (8 tablespoons)
1 box white or yellow cake mix
Prepare your crock pot by spraying with Pam cooking spray over the entire inside.  Place one can of peach pie filling or really any pie filling of your choice.  Sprinkle the cake mix over the pie filling evenly. Melt one stick of butter or margarine in a microwave safe bowl and pour as evenly as possible over the cake mix.  Turn on crock pot on high and cook for 3 – 4 hours with top securely on.  Serve alone or with vanilla ice cream!