1. BioZyme is the company, Sure Champ is a product.
A common misconception that we ran into was people calling us the Sure Champ interns. We work with brand lines of Sure Champ, Vita Charge, Vitalize and VitaFerm and all of those are under the supplement division of BioZyme Inc the company!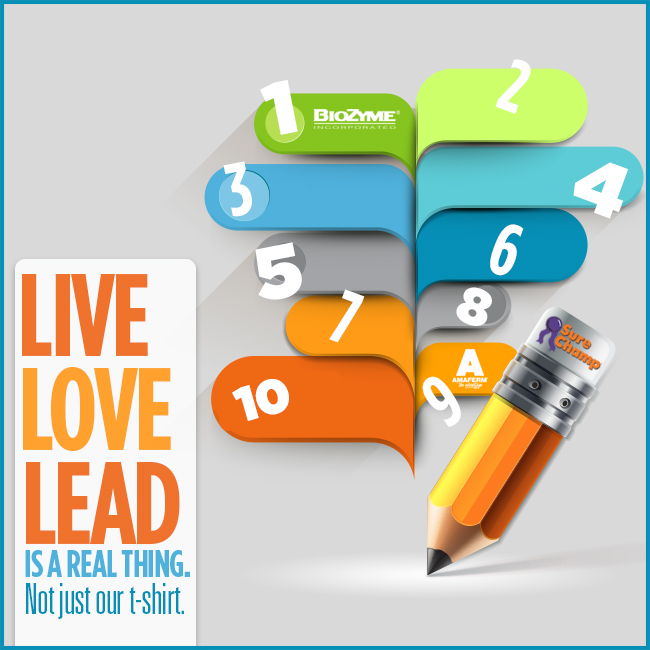 2. Don't break your foot the beginning of the summer.
At the beginning of the summer right before World Pork Expo, I broke my foot and had to wear a boot for a few weeks. Watch out for uneven ground, it'll get ya! -Victoria
3. Triple check your lights… or you'll get pulled over!
Because lets be honest, third times the charm would have better than the second, lol.
4. A Budget truck can only go so fast.
With our summer tour doubling, the team had to split up. Half the team took a Budget truck to Shorthorn and Herefords; and if you were wondering, the Budget truck doesn't go very fast when filled with product and t-shirts! -John
5. Doing laundry at a hotel isn't very fun.
Being on the road for 18-20 days can really take a toll on your clean clothes pile. While it's part of being on the road, let's face it, laundry is the last thing you want to be doing at midnight!
6. Treat others how you want to be treated.
From checking in exhibitors to getting gas, it's always good to remember the Golden Rule. Plus you never know who's watching, make your mom and dad proud and hold the door open for someone.
7. You will never look at a trivia wheel the same…
We spent more time with the Sure Champ wheel than probably most exhibitors drove to a show. Due to our close relationship with the wheel, it was easy to leave the summer brushed up on some animal nutrition and quiz bowl knowledge!
8. Friendships are the most valuable things.
Whether it was at the wheel or touring our company's manufacturing plant, we made friends that we'll never forget.
9. The Amaferm Advantage.
It is on just about every product but what is it? We didn't know either until product training and plant tours, but it became clear Amaferm is the real advantage in all of BioZyme's products. Amaferm is a research proven natural prebiotic that aids in digestibility, lowers internal body temperature, and increases overall health and performance!
10. Live, Love, Lead is a real thing, not just our t-shirt motto!
If we learned anything it was that we didn't just live in the moment but we loved what we did and in return from doing something you love you naturally lead. For us, BioZyme is a company that has products we believe in and when you believe in something it makes life easy. When your values are clear, your choices are easy and for us interning with this company was a no brainer.
We'd like to thank everyone that we met along the way during the Sure Champ Summer Tour 2016 and can't wait to see what 2017 has in store for us!
– John Reasor and Victoria Osburn
If you are interested in the BioZyme internship program be sure to watch our social media pages and website in December for details about 2017 opportunities.