Spring is officially in full swing and summer is right around the corner, which means it's peak season to start your gardening projects. You might not know where to get started, but it is easier than you think! You can start with something you already have in your barn – VitaFerm Power Tubs or Vita Charge Stress Tubs! 
Here are some great tips from Lindsay Sankey, blogger at "Jeans Boots Are Made for Talking" on how to get started.
Converting the Power Tubs into a raised garden has been one of my favorite projects we've taken on since buying the farm, for several reasons: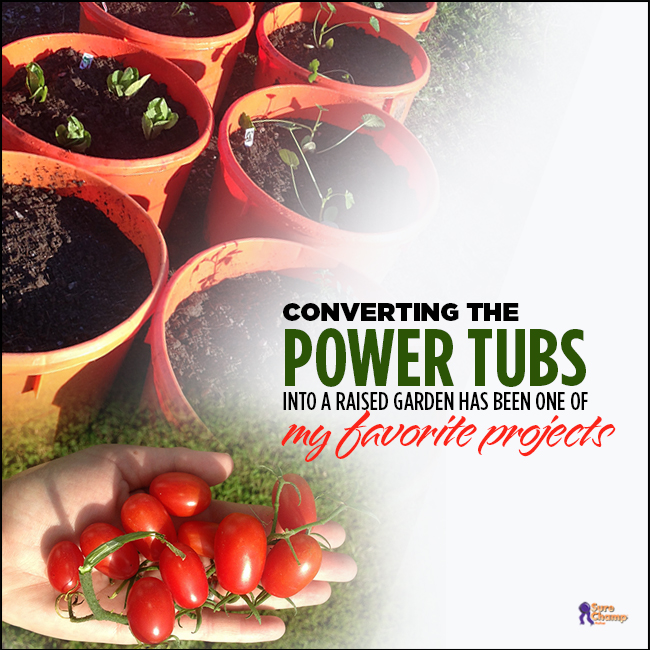 It repurposed waste.
Those involved in agriculture understand the art of being resourceful. That's why our refrigerators are full of margarine tubs storing left over lasagna and used bailing wire and a set of pliers are found in every ranch truck across the country. It's just how we were raised. This project allowed us to reuse something that had already fulfilled its original purpose, and fulfilled it well!
It tidied up our workspace.
We had a stack of good plastic tubs that could clearly be used again, but they were just being stored in a corner of the barn, taking up a lot of space. Using these tubs for a garden got rid of that clutter.
It taught us the meaning of "a little goes a long way".
At our place, we fondly refer to the summer of 2015 as the Year of the Tomato. And the Green Bean. And the Zucchini. They just kept growing and producing! This project taught us that even a small space could produce a large amount of food. Several times a week I would fill our large colander with farm fresh produce. And the best part: I didn't have to visit the grocery produce section for months.
Our process:
We rinsed out the tubs, but didn't scrub them. Our cattle had already done the dirty work for us.
We drilled six holes in the bottom of each tub using a ¼ inch drill bit. This allowed water to drain easily to prevent root rot and saturation.
Our starter soil composition was simple and something we're all familiar with: dirt, manure and straw. We cleaned off a feed floor once I was ready to plant. This combination drained well and was – of course – well fertilized.
Note: Make sure the tubs are positioned where you want them before you begin filling them – they are heavy once full.
We filled each tub 2/3 full before we made our planting decisions. We followed planting directions unique to each plant regarding depth, sunlight, etc. We went on to fill the tubs with dirt 4 – 6 inches from the top.
Our advice would be to plant only one vegetable selection (not plant, but species) per tub. We combined a few last summer and ended up watching the jalapeño plant fight for space with the zucchini in the same tub – not a good predicament because we wanted both on our weekly menu. When we planted 2 jalapeño plants per tub we had no problem.
Weeds are fairly minimal and quite manageable since the space is small and shallow, but they still show up! Keep a weekly, watchful eye for weeds.
You've heard that the grass is always greener wherever you tend to water it? Well, the same goes for the garden. Also, the soil composition listed above drains well, requiring more water.
You can read more about Lindsey's gardening project on her blog. Have you repurposed Vita Charge Stress Tubs or VitaFerm Power Tubs for other projects? Share your photos with us on Facebook, Twitter or Instagram by tagging your post with #surechamp!