BioZyme, the makers of Amaferm, VitaFerm, Sure Champ and Vita Charge provide global distribution across the world through International partners in more than 10 countries. Although, normally our blog is filled with information and interesting facts about things happening within our company and agriculture industry in the U.S., we decided it would be fun to give you a glimpse at the agricultural advancements being made across the "big pond" in China!
Over the past 10 years, China has been the world's fastest growing dairy market. Their growing population and increasing economic status drives milk demand and continues to outpace local milk production. BioZyme's natural feed additive, Amaferm, has been registered and sold in China since 2006. Recently, International Sales Director, Elishia Carrillo, met up with Sales Rep, Dr. Ming He, and nutritionist, Dr. Ueli Zaugg, in China to visit Chinese Dairies and advise on nutrition to help increase milk production.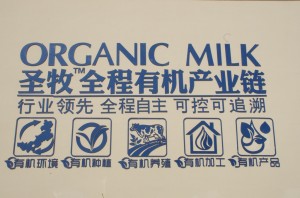 Their visit included trips to very young dairies experiencing explosive growth in the Inner Mongolia area and presentations to nutritionists.  Two groups had 20-30 dairies with about 100,000 cows each.  When Yili Dairy Director of Organic Production was asked about their 5 year plan, he advised that they want to grow to 200,000 cows in the next 5 years and be the largest Organic Dairy in the world.  This is from a Dairy Group only 4 years in the making.
The team took in-depth farm tours and worked on rations based on what they saw including; body condition, TMR mix, feedstuffs available, cow comfort and problem areas.  The people were very receptive and incorporated many of the suggestions immediately.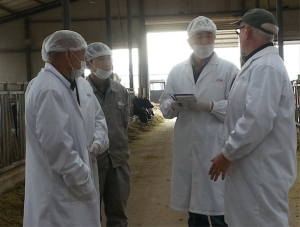 Currently, strong milk prices plus demand have producers keeping cows in the herd even when they are producing less than 10lbs of milk.  The need for MORE MILK made Amaferm an obvious tool to reach for in Early Lactation where Amaferm is proven to increase production by 7%.  After the Team's visit, one of the Dairy groups announced that they would double their already significant Amaferm usage.
A successful visit to China for Elishia and the team brought back enthusiasm and excitement within our company and the team has scheduled another visit for the fall. Continue to check our blog for more information, fun pictures and much more about our companies expansion across the "big pond"!